Strategic Planning Agenda
Below is a 1 day strategic planning workshop. Following the strategic planning meeting there was 4 follow-up meetings to refine the plan and document action steps.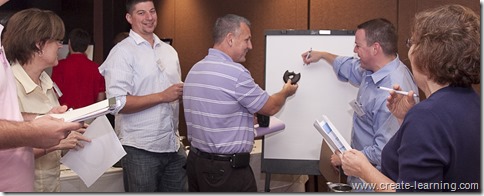 Objectives:
Develop strategic plan for 2014+
Gather ideas from key staff
Refine ideas into actions steps and metrics
Develop, update and refine plan through 2014
Time

Activity

Teams

730

Mike of Create-Learning arrives and sets up

800-830

Staff arrives, eats

830-840

CEO 'Most Important Meeting of the Year'

Why are we here?

Why is this important?

What are the expectations?

840-850

Mike C. – Mission:Vision:Value

850-900

Detailed Data Discovery

Teams gather successes and progress made of 2013

Teams gather specifics steps that lead to success

Teams create a chart (pie, bar, spider, ven, etc) to graphically illustrate result

4 mixed teams

900-910

CEO updates and successes of 2013

900-940

CFO $$ talk:

Comparison of past to present financial Profit & Revenue

Expenses and Revenue for improved profit

Frame in a manner that we can focus on Profits & Customers into 2014

Bonus Discussion

Time for discussion questions and answers

All

940-1000

CEO State of the Industry

Industry report

What he sees as future company needs & goals

Sharing smarts about Profits & Customers

1000-1015

BREAK

1015-1045

NOISE Analysis & Pre-Work discussions

Teams will generate ?'s & answers that will be used to frame the ideas for the 2014 plan.

3 mixed teams.

1045-1115

Teams present NOISE diagrams & ?'s + answers to pre-work

Discussion and commonalities that were identified

All

1115-1200

Teams get back together and…

Evaluate + adjust ideas for 2014

Transcribe onto LARGE post-it notes

We all meet + look + reflect at the ideas and questions … preparing for the afternoon

3 mixed teams -> All

1200-100

LUNCH

100-115

Infinite Loops – Partner Separation

All

115-215

Identify Strategic Direction ideas for 2014 in department teams

Teams will discuss & analyze the ideas using:

Doable 0 – 10

Impactful 0 – 10

Helpful to employees and / or customer 0 – 10

From the analysis teams will narrow to their top 2 or 3 actionable ideas.

3 Dept Teams

Focus on dept.

215-230

BREAK


230-245
Teams determine specifics

How will we know we have achieved X?
What improvement will be noticed tangible things you can point to?
What can we accomplish by the end of Q1; Q2; Q3; Q4?
Who will do what by when?

345-400?

Teams report out what they developed

Wrap up and next steps

High fives and group hugs!
Interested in Strategic Planning facilitation with your Organization and Team? Contact Mike today 1-716-629-3678.