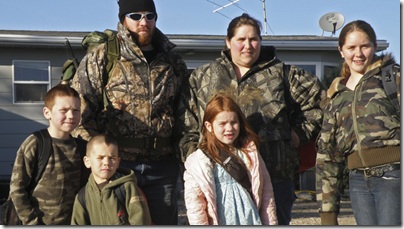 Watching ABC's Wife Swap last night about a family who believes the world will end in 2012 and are counting down the days until the end of the world as we know it or the acronym TEOTWAWKI.
How many people, teams, and companies have this thinking? And are counting down to some made-up lacking critical thinking end state.
Perhaps not 2012 and conspiracy theories, yet just as solid folkloric constructs. False stories become perceived as the truth because no one has critically explored and challenged the foundation upon which the story is built. Then people "research" and continue to find and reinforce their beliefs.
Any method, tool, or idea you have can be continually reinforced when you only look for those who agree with the process, project, idea, concept, theory, etc.…
Are you planning and preparing for a false future, or from this show putting your family and credit at risk working off a false paradigm?
Plus, it was a hilarious episode. Below is the description of the Stewart family.
After their eldest daughter saw a TV show about the 2012 Mayan prophecies, the Stewart family moved to a remote area of the Midwest, fearing that doomsday may be near. While Dawn and Grover don't talk about the end of the world in front of the younger kids, they do their best to ensure Kimberly (13), Odin (8), Freya (7) and Ian (5) are prepared for any eventuality. They have weekly survival training, and the kids take survival kits with them wherever they go. There are no extra-curricular activities for the kids, as their parents want them home in case of disaster. From hazmat suits to gas masks, this home is stocked with survival gear, and there's a countdown board to TEOTWAWKI — The End Of The World As We Know It — December 21st, 2012. But it's not all doom and gloom; they cheerfully point out they've taken advantage of interest free credit till 2012 to furnish their home, as there will be no one around to collect.