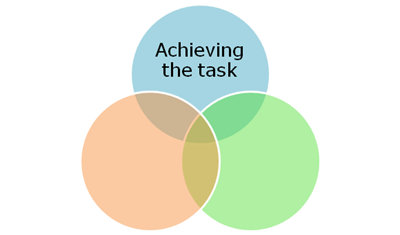 3 circles image = TM John Adair (1)
Leading & Working in teams 3 areas of focus are necessary;
Task: the need to accomplish the common task or solve a problem. This is what the group is talking about and is usually seen in terms of things rather than people.

Team:

the need to develop and maintain good working relationships among team members. This is primarily about people and how they relate to each other.

Individual:

the need to fulfill their own individual needs, such food, shelter, security, respect, and alignment with values + commitment.  Individual needs should be met along with the group and task needs.
When working to achieve the task, the following 12 areas of focus will create the analysis and clarity needed to improve the way the team operates. Ensuring that the team accomplishes the task within the Quality, Quantity, Time Frame, and Resources (Goal being a what by when) determined.
Purpose: Am I clear what the task is?
Responsibilities: Am I clear what mine are?
Objectives: Have I agreed these with my manager, the person accountable for the team?
Process: Have I worked one out to reach the objectives?
Working Conditions: Are these right for the job?
Resources: Are these adequate (authority, money, materials, etc…)?
Targets: Has each team member clearly defined and agreed to them?
Authority: Is the line of authority clear (managerial accountability, who is accountable for what, leadership, who can tell who what to do, Who can hold who accountable for underperformance, etc…)?
Training: Are there any gaps in the specialist skills and abilities of indivdiduals in the team required for the task?
Priorities: Have I planned the time, What is the shortest time frame, have we set a clear list of required completion times?
Progress: Do I check this regularly and evaluate? If so to whom and what is the method?
Supervision: In case of absence who covers the work?
Example: Does the team leader set standards by their behavior, values + commitments?
Once you answer the questions above, successful task completion can be achieved. Although keep in mind that the team must also create a balance between Achieving the Task, Building & Maintaining the Team, and Developing the Individual.
Referenced:
Thomas, N. (Ed.). (2004). Adair on teambuilding and motivation. London: Thorogood.