Recently I had the honor of facilitating a Team Building program with the Western New York Stress Reduction Program. They do amazing work;
The Western New York Stress Reduction Program was formed in 1987 in an effort to meet the needs of the emergency services providers in Erie, Niagara and Wyoming counties.

It was developed to minimize stress related injury to fire, police, emergency medical services, disaster and hospital emergency department personnel – Critical Incident Stress. This is accomplished through education and intervention – also known as Critical Incident Stress Debriefing (CISD).

Since its founding, the program has provided defusing and debriefings to 90 agencies and over 1,500 emergency services personnel.

The Western New York Stress Reduction Program is a not for profit organization staffed by volunteers.

For more information click here…
The outcomes of our time together were;
An enhanced accountability of the people within membership to operate in the best interest of those they serve, their team, themselves and the WNY Stress Reduction Program.
Alignment of mission, vision and personal perceptions of the agencies mission and vision as it applies to the individual members, and the community at large.
Creating a shared understanding and plan for future steps of the WNY Stress Reduction Program
People's awareness of the team and their own preferred style for communication and information sharing.
A list of what each team member needs in order to accomplish great work and how the other team members may serve in that great work.
A list of what the team, as a whole, needs to continue great work.
Here are some images, with testimonials at the bottom of the page;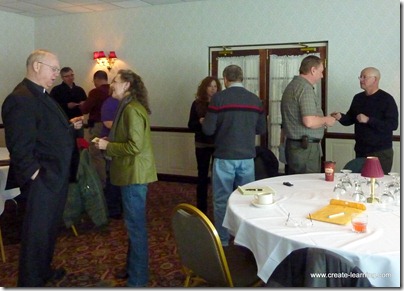 I2U2ME2WE To determine each persons perception of why they are here at the program, and to have team-members learn more about each other.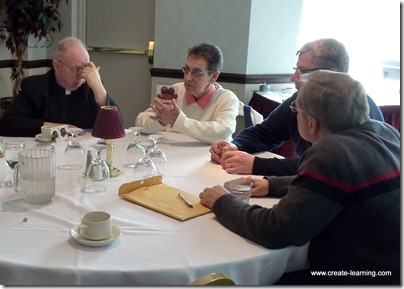 Sharing stories and creating a shared vision of purpose for the team building program.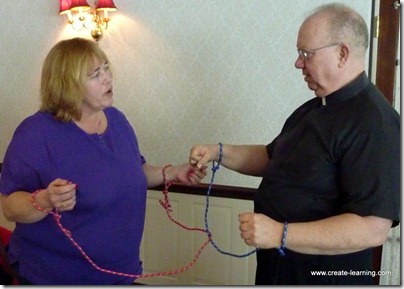 Infinite Loops to explore Critical Incident Stress Management. Working with a person who has undergone a traumatic experience it takes resilience and a belief that people can get better.
Using infinite loops to discuss asking for and receiving help. And when helping others, doing so on their terms. This means listening and allowing people to make choices on their own.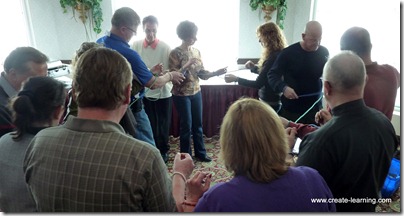 Moving from 1:1 stress management to working with a group. The volunteers work with large groups. Providing support for a group is different from providing support for individuals. Here in Infinite Loops level 2…the challenge is raised to a group level.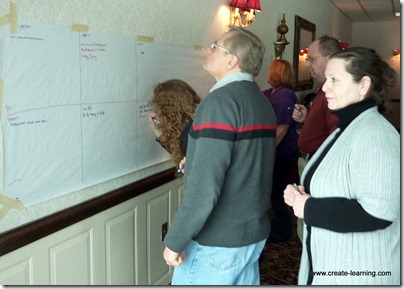 The WNYSRC involved in the creating a shared history part of Solutions Future Focus.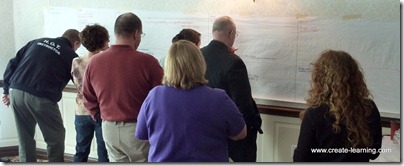 Small teams now determining ideal futures and 30 day actions steps for WNYSRC.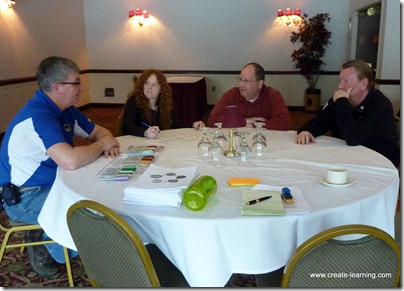 Here are some testimonials from our time;
"Reaffirmed our mission statement and goals. Gave us a sense of perspective as to where we have been, and where we are now, as well as how we got there. I think it also reinstalled a greater sense of pride in the organization."
"Mike Cardus facilitated a afternoon of exercises, which got participants working together in a positive fashion.The positives of the organization were emphasized, and we got to step back, and take a fresh look at who we are, and how we got there. This provided the perspective to enable us to keep the organization strong."

michael cardus is create-learning