Below is a series of Team Building & Leadership Programs facilitated to over 20 project teams within a large bank. Each can be customized and adjusted for your culture, team and organization. If you are interested contact us and start making your team better!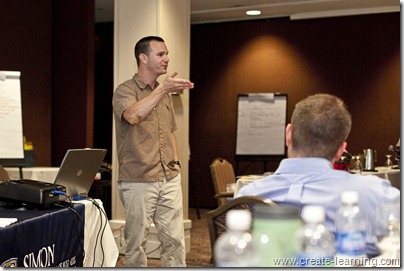 Situation Summery;
Currently the organization generates much of it revenue and productivity on team based projects. Each team consists of people from various departments with one assigned Project Manager. Within these teams are diverse individuals who are all driven and focused for success.
When you have driven individuals the focus on the team and organizational mission can be lost. Once the mission and purpose of the team is lost the effectiveness and overall productivity of the individual decreases, leading to creation of negative views and increased inward spiraling doom loops of the project, team and individual.
The project team members are in need of skills, tools, and techniques to develop high functioning teams, as well as how to be a high functioning team member.
High Functioning defined as – all individuals are committed in words and actions to the teams; Purpose, Decision Making, Expectations, Resources and Process.
Program Objectives;
The objectives for this project include;
Team members to have a common language of team development and leadership
Team members to see how personal accountability and team accountability fit into the organizational and project mission, values, and purpose.
Develop skill sets in 1. Effective behaviors of team membership 2. How to develop teams and team goals 3. How to lead those who are in charge of teams.
Program Methodology;
Team Accountability and Decisions
Part 1 recommended time frame 3 hours.
Create-Learning will facilitate the team members through learning simulations and facilitated discussions about negative and positive team member behaviors. Focusing on an overview of the Team-Development model and how as team members they can ensure that they are accountable as well as how to work to keep others accountable for their completion of objectives in reference to team goals.
Within this workshop a focus will be on the ability of the individuals within the team to openly discuss their perspectives on the issues. Allowing the team to have a greater understanding of all the individual perspectives they will be able to institute the best option for success.
Facilitating the participants through a decision making & Conflict Choice model.
The participants will have an understanding of;
How their choices affect themselves
How their choices affect others
As well as a model to decrease the amount of time to make choices within the team.
Additionally keeping a focus of what is working at the moment as opposed to what is not working.
Developing and Being a Part of High Performance Teams
Part 2; recommended time frame 3 hours.
Team members will learn the Team Performance Model and its application to accountability and situational project completion.
The Team Performance Model illustrates 8 Steps that are useful in the creation of High Performing teams;
The participants will have an understanding of;
The 8 steps for team performance
How to trouble shoot if any one of the areas is not being met
Successful resolution of team conflict
How to delegate and ensure commitment of responsibilities to team members
How to determine team member strengths and weaknesses
Leading Team Leaders
Part 3; recommended time frame 6 hours.
This workshop will focus on the application of small group theory and leadership models to team development within the Organizational setting and Project Teams.
Addressing such issues as;
Power and difference among members
Equity in leadership
Peer performance assessment
Team process consultation.
It provides an opportunity to examine, both theoretically and experientially, the development of a team as it forms, confronts interpersonal and group conflict, and evolves from dependence on the team leader to interdependence and shared leadership among team members.
Topic Areas include;
Forming and Sustaining Successful Teams
Aligning Individuals Around Group Goals
Experiential Learning
To discuss making your team and team leadership better!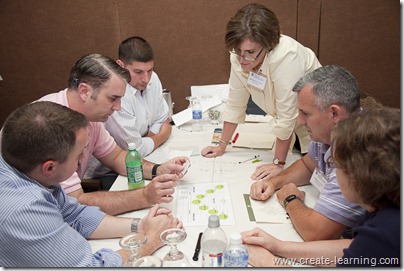 michael cardus is create-learning