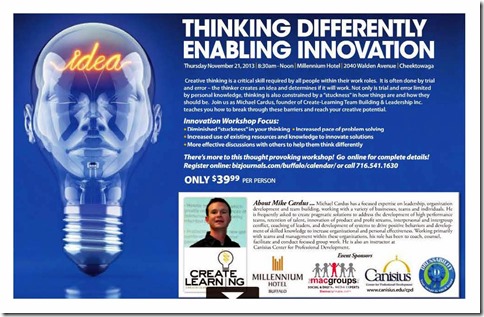 I am really excited to be offering this workshop through Buffalo Business First and Canisius Center for Professional Development.
Thinking Differently. Enabling Innovation
Empower yourself and attend this workshop! This workshop will teach you how to find unique perspectives, think more creatively, enhance your creative expression, and help you manifest positive change for yourself and for your career and company.
Event Information
Competitive demands require quicker, more effective and innovative problem solving. Problem solvers are required to quickly provide solutions to increasingly complex problems, develop and design new and innovative products and processes – and at the same time, reduce operating time and costs.
Creative thinking is a critical skill required by all people within their roles at work.  It is often done by trial and error – the thinker creates an idea and determines if it will work. Not only is trial and error limited by personal knowledge, thinking is also constrained by a "stuckness" in how things are and how they should be.
Join us as Michael Cardus, founder of Create-Learning Team Building & Leadership Inc. teaches you how to break through these barriers and reach your creative potential! 
Innovation Workshop Focus:
Diminished "stuckness" in your thinking
Increased pace of problem solving
More effective discussions with others to help them think differently
Increased use of existing resources and knowledge to innovate solutions
Register and Learn More… http://www.bizjournals.com/buffalo/event/97401