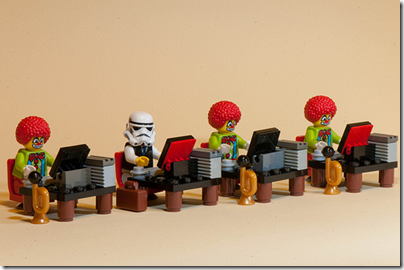 Recently I was asked for some tips on being happier at work.
I'm cynical of Pollyannaism and the need for employees to be "happy" in the sense of singing and dancing at their work.
Below is a summation of what I shared. How does your view of happiness at work coincide?
Tips for Being Happier at Work
What causes unhappiness at work can be several factors that are often outside the doors of the workplace.
Work is a psychological necessity for a functional society and every person. Much of people's happiness at work comes from people who are left alone to do their work. Work that matches their capability and desire to work, plus they have a management structure that attracts trust.
Sometimes the "shut up and be happy you still have a job" mentality can only reinforce the unhappiness because people now feel more unhappy about being unhappy.
That response was too theoretical, so they pushed me for some concrete examples. Below are some concrete examples of Tips for Being Happier at Work.
Treat People Like Adults
When you treat people like adults and allow them to choose their own reactions (which is something you cannot control) they behave like adults.
Find at least one person that you can confide in and speak to
Having that one friend at work can help make the day bearable, knowing that others also feel unhappy or are happy with their work makes the day more bearable.
Focus on what you want to have happen
As opposed to the bad stuff that is happening. Meaning, focusing on problems and things that are wrong will only make you an expert in what's wrong with your work. Finding some things that are right will move the focus to solutions. For example, say you constantly feel hurried by your manager. What you want is for your manager to set proper time-frames and allow you the time to plan to accomplish the tasks. See if any of that is already happening? Determine that once this happens how is your manager's work and your work better? What are you doing to make that happen? I understand this may never be perfect, taking some steps for the solution can create happiness.
Find ways to measure your own progress and regress
Making progress on work that is meaningful makes people happy and having a metric that is known, allows people to measure their progress. If your manager does not supply this for you, then do it yourself. Create your own measurement system for progress on work that is meaningful to you.
What do you think?
Is happiness at work a myth? How would you define happiness at work? What does happiness mean anyway?
image by kennymatic