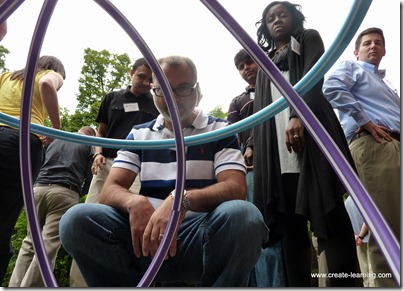 For team development and team building to happen, the facilitator must know how to build the team.
Leading a series of "games" that have no purpose is recreation. Read 'Sometimes I Feel Like Team Building is Sweet Frosting on a Shit Cake.'
The facilitator must be aware of the team, the individuals on the team, and their shared + individual work for completing the task.
Guiding a conversation and developing a plan to apply what happened during the team building back to the team's work is tasked to complete.
Here are 7 areas for you, as the facilitator, to observe and be thoughtful of in a team-building program.
perceptions of the rules of the situation;
the focus and flow of behavior;
the handling of ambiguity and uncertainty;
the response to the team building facilitator during the activity;
concrete behavior;
use of information;
patterns of language.
The 7 qualitative observational areas will indicate how the team generally operates on team tasks. Plus, supply you with observable data to inquire about, work with the team to determine what was useful, what to do with that useful stuff, and how to implement the useful stuff back into their individual and team routine.
What do you think?
What areas do you observe with team building programs? How do you use the observations to improve team performance?