A recorded webinar on Organization Design and its application to workplace complexity and order
The framework shared is based on Elliott Jaques Levels of Work or Stratified-Systems-Theory.
The levels of work reflect two organization development areas:
your role at work (the goals, tools used, skills, explicit & implicit practices processes, experience, requisite talent);
you doing the work (your intelligence, values, identity, intention, learning & application, personality & behaviors).
While there is a robust interface between your role at work and you doing the work – there is and will be some separation.
You may have excess capacity to do your work, and the current role you are filling at work may be easy for you (you have excess capacity).
You may be lacking skills, or the work does not align with your current values, the work may be challenging for you (you have a capacity deficit).
When we can construct an organizational structure that allows each person to do their work and understand the role expectations and match or align them with the work you are doing, we can move closer to trust-attracting.
I've written and researched this extensively, and the damage caused when your manager or your manager's manager has a capacity deficit creates stress, frustration, micromanagement, and trust-repelling leadership.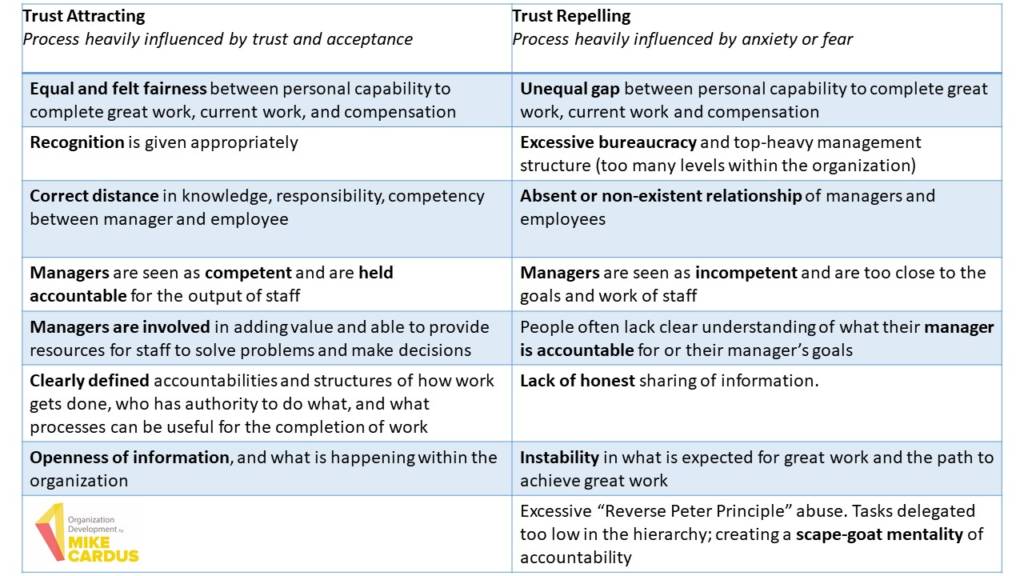 While you are looking at the organizational structure and how to best attract-trust ask your leadership team and self:
Who is looking for complexity patterns within the market? Within the organization? Within the work? Within the teams? Within our interactions? With each other? 
How do we recognize and understand or use sense-making to determine which patterns to increase and decrease? 
Who, does what, when, where?
How will we do the work?
What work are we doing?
Who will do the work?
Why are we doing this?
What alternative ways exist?
Can we identify what is working to amplify?
Can we determine what is not working to dampen?
How many leadership layers are too many, not enough?
---
What happens when the leadership layers or stratum is weak, underdefined, or absent?
When the stratum of the organization is weak, this is a crack or constraint, and when you are the person doing the work, you have to dip into the stratum below and do that work.
So, if you are a stratum III director developing systems to understand financial forecasting and data to support ongoing growth and acquisition, plus the stratum II layer manager does not exist, or is not doing their work – then you have to do the development of process work to ensure that the front-line work is getting done on-time, on-budget … That means that your system(s) development is constrained, and the organization is not gaining the predictability it needs!
Using the organization design framework above will help you think through:
your current management and leadership layers
how to identify the value and type of work expected at those leadership levels
what to look for when acquiring talent and how to best place new people into your organization and teams
areas to identify micro and macro-management
what may be causing the bad behaviors and team breakdowns
Organization design is the skeleton of your organization. A good design supports a healthy flow of work, cash, people, and customers while a bad design constricts these.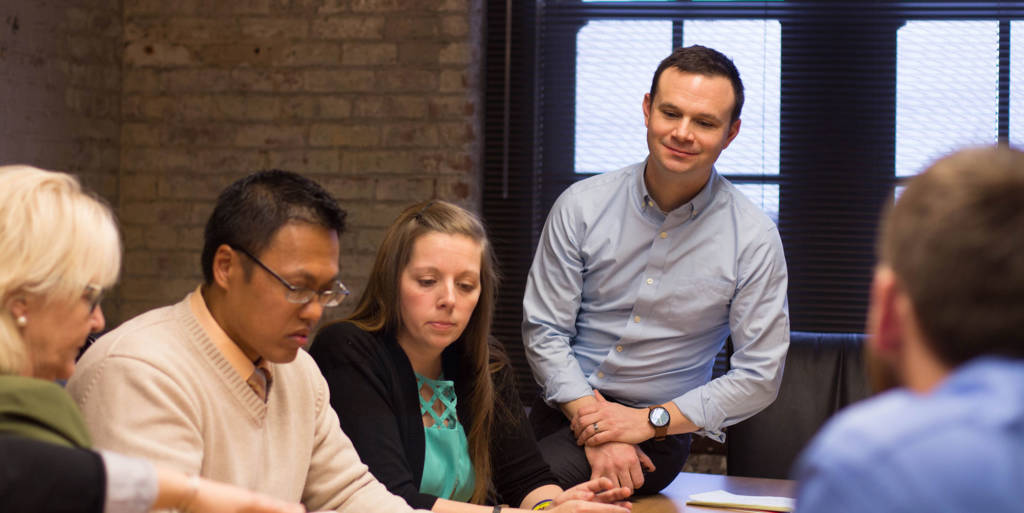 Ever wonder how other teams make collaboration look so easy?
If so, you've recognized a challenge with your own team. And that's the first step in finding a solution. Now, it's time to do something about it.