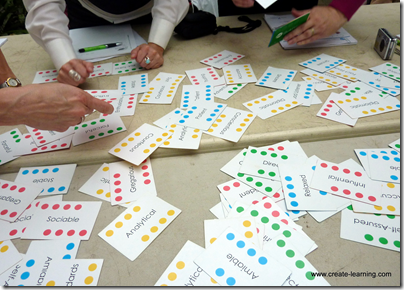 DiSC Team Building & Leadership simulations and activities can add application and understanding to your existing programs. There are many variations from conversational models to highly active models.
Contact Mike… to discuss how to increase the learning and utilization of your DiSC training program.
Below is one example of a DiSC Team Development activity with other development options;
Using DiSC to create a shared language of team performance
Flexing and developing all your DiSC Behaviors
Experiential DiSC: a series of hands-on activities used to understand DiSC in a team setting
---
DiSC Perception :: DiSC Team Building Activity 
Materials:
DiSC Profiles
Multi-Colored markers
3 flip charts per D, i, S, C (you will need 12 flip chart pages hung around the room)
Objective:
For team members to explore their perceptions of themselves and others, DiSC behaviors.
Team to discuss how these perceptions, both positive and negative, affect how the work gets done.
Preparation:
Prepare three flip chart pages per/DiSC and write Dominance, Influence, Steadiness, and Conscientious.
Three flip charts per/DiSC behavior;
3 pages for Dominance
3 pages for influence
3 pages for Steadiness
3 pages for Conscientiousness
Below the DiSC behavior title, split each page into 3 sections and label these parts;
Feel free to alter any of these.
Preferred Work Environment
Measures Progress By
Irritated By
Tape these flip chart papers to the walls and allow plenty of room between papers for people to write and move around.
Instructions and Facilitator Script:

In a moment, you will work as individuals on the following task.
You will see that we have affixed flip charts with each of the DiSC behaviors listed.
Spend about 20-30 minutes walking to each DiSC behavior and write how you feel that the person with that DiSC style views these 3 areas:
Preferred Work Environment: The environment that a person prefers at work.
Measures Progress By: How that person is tangibly reminded of how well they are doing in their work.
Irritated By: What bothers that person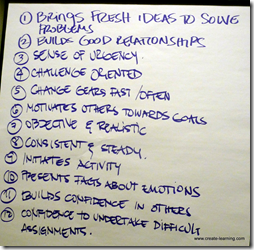 Please write on every DiSC behavior. Please be honest and share your thoughts with other people.
Following the 20-30 minutes of writing on the flip charts, please find the other team members with the same DiSC style you have.
All the high D are together, high i together, etc…
Take down the flip chart papers about your DiSC behavior and spend about 15 minutes as a team discussing what others have written and perceived about your DiSC style.
Take time as a team to reflect and question each other as to what other people perceive and do not perceive about your DiSC style.
After the 15-minute discussion, each team will have time to explore, clarify, define, and answer about their DiSC.
Facilitator Notes:
Be careful and ask the participants to keep an open mind. If you feel this will turn into a negative complaint-fest, DON'T DO IT. People can be insulted and challenged when faced with how others perceive them. Work is a very personal thing to people, respect that and encourage the people also to respect that. Please do not rush this activity; allow it to move slowly and take time.
 Potential Learning & Application Questions:
Once the teams have had ~15 minutes to look over others' perceptions of them, allow each team some time to report on what was accurate and not accurate.
Encourage people to use their DiSC profiles to highlight their strengths.
---
Mike is your answer. He will create and develop customized activities and simulations for what you need. Contact Mike (mike@mikecardus.com)
Mike will come to you to facilitate the action learning and processing, or they can send you a document with videos and photos of how to do everything you need.