Facilitated this activity with a company during a strategic planning process.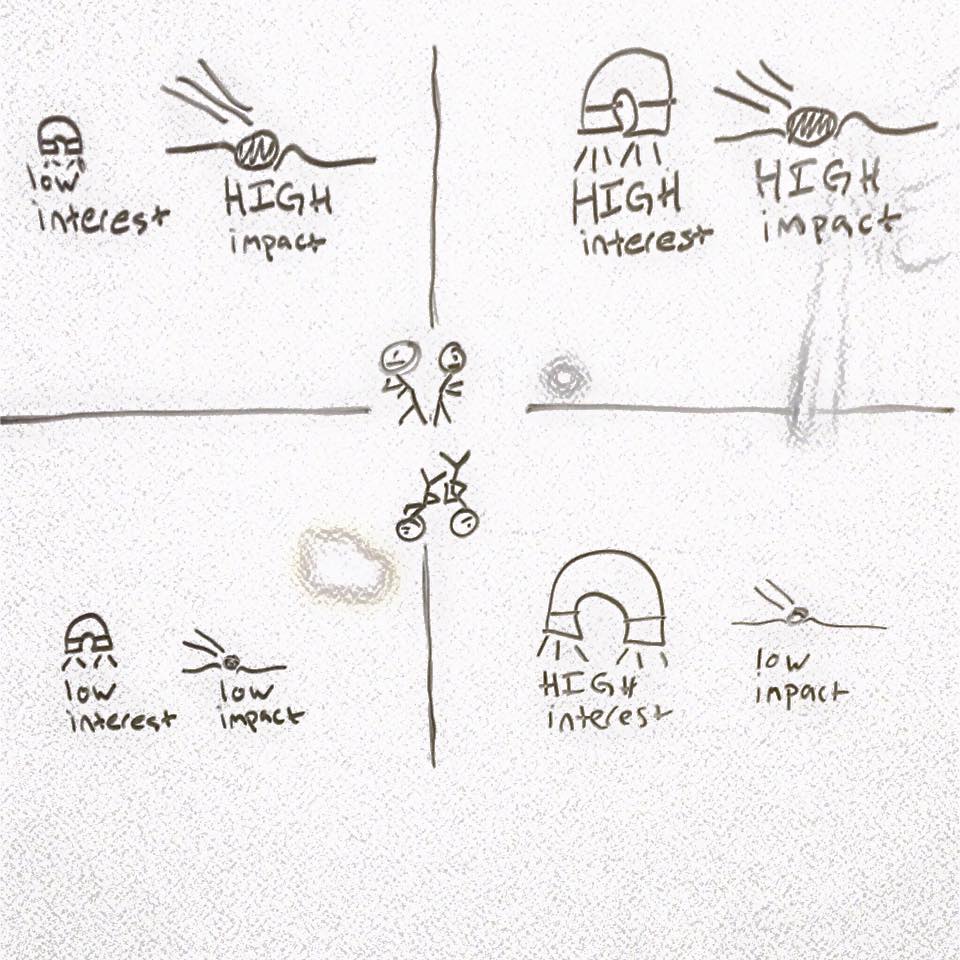 Interest Impact Matrix – Corporate Team Building Activity
Purpose
When a team has several ideas, the Impact Interest Matrix is used to visualize what is Impactful and Interesting.
When impact and interest are discussed and agreed the team can decide on which ideas to pursue
Materials
Flip-chart paper
Post-it notes
Markers or pens
Objective
Slow the team down – hold them from rushing to solutions
Create a visual process for the team to identify the impact and interest in an idea
Preparation
Draw or write on a piece of flip chart paper the above image
Have the idea, topic, challenge, problem, etc… that the team will be exploring written. It helps to have a brief summation of background, current knowledge, and reason for focus.
Supply many, many post-it notes to the team
Guidelines and facilitator script
Share the idea, topic, challenge, problem, etc.. and information from Preparation #2. = 5 minutes
Ask the group to list many solutions, ideas, plans, or whatever is appropriate on the post-it notes. 1 idea per post-it. = 15-30 minutes
Ask the team to move what they have from #2 above and place it on the Interest – Impact Grid.
Interest = describes the degree of interest by the team member or person(s) affected by the idea.
Impact = describes the degree of impact on the team member or person(s) affected by the idea.
Learning and Application
Once the team has placed the ideas on the Impact Interest Matrix, ask the team to take a 15-minute break. When back from break, the team may identify what ideas or strategies to pursue.
Some teams I've worked with chose from all 4 areas of the Interest Impact Matrix. The Impact and Interest are the team's perception, and determining the next step is the purpose.
Possible application questions
Share your criteria for interest? Impact?
How did you decide which ideas were more / less impactful? interesting?
Seeing the location of other people's ideas, what patterns do you notice?
Thinking about the ideas we chose, how are they different from the ideas you had initially?