I haven't shared a Leadership Development Agenda post in a while.
Below is an opening retreat agenda for Leadership Niagara.

For you Leadership Development geeks – What do you think of the agenda? What would you have done the same / different?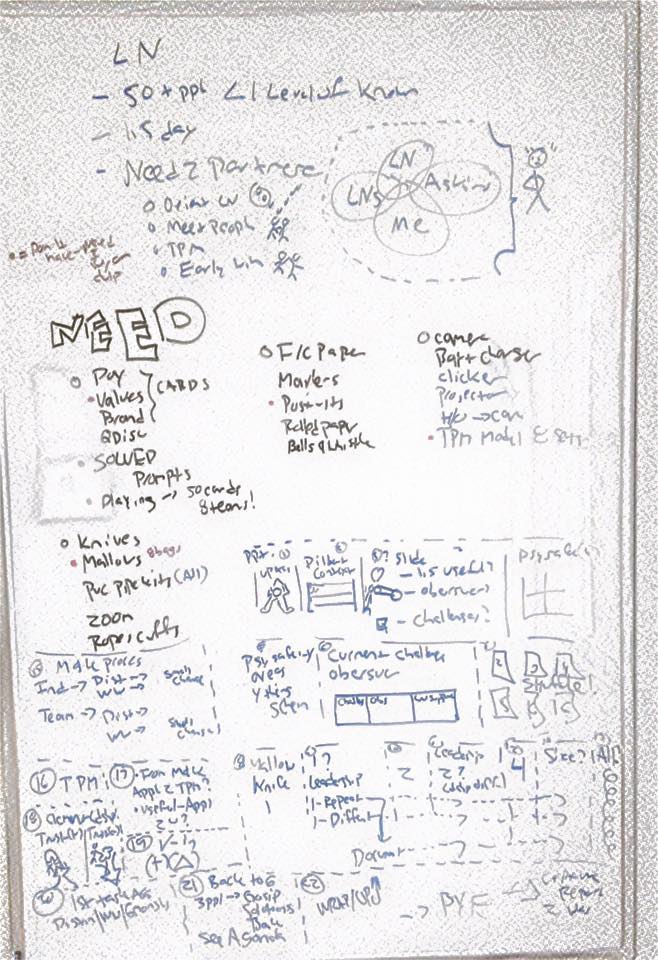 Above is my white board planning for the 2 day Leadership Development Retreat.
Leadership Niagara Opening Retreat Agenda
Internal Use for LN staff and facilitators
Where: Sheraton-at-the-Falls, Niagara Falls
Who: LN Class of 2016
Objectives:
Kick-off for Leadership Niagara Class of 2016
Orient LN class members to Leadership Niagara and the year to come
What am I doing here? What are you doing here? Develop individual and LN 2016 orientation, purpose, team identity, membership
Who are you? How will you support me to achieve my goals? Develop individual and LN 2016 trust, mutual regard, forthrightness, reliability
What are we doing here? How will we support each other to achieve our goals? (Begin) to develop LN 2016 individual and shared goals, craft explicit assumptions, clear integrated goals, shared and known vision for 2016
 Note – Attire is business casual. Spouses/partners are invited to attend the cocktail party at 6:00 pm.
 Set up night before
8 round tables
1 flip-chart per/table
Piles of markers on each table
Pile of POY and Value cards on each table
Piles of post-it notes on each table
Detail Data Opening sheets on table – opening slides asks LN to complete sheet and be prepared to begin at 8:00am
Flip-chart paper (or rolled butcher paper) lining a back wall
Fleeces, pad folios, nametags, and table tent cards on each table
Time

DAY 1

Action
7:15-7:55
Arrive for breakfast
8:00-8:20
Welcome by Molly Anderson, President & CEO

Welcome
Who is LN?
Why are we here?
 What to expect?
How will you see commitment from LN?
How will LN see commitment from you?

8:20-8:50
Opening Activity with Dr. Nancy Askins LN '04 and Mike Cardus, Principal Consultant

 8 Table Groups

‡Detail Data opening

Table groups will talk, share and compile, analyze, visually represent their table team

8:50-9:00
Mike Cardus

Leaders create the environment to support decision making and problem solving

Psychological Safety (share Google Lazlo Block, Teaming Amy Edmonson, 4 areas from Schein)

9:00-9:30
Mike Cardus

All LN

Current knowledge – Observer progress – Class support

‡Each LN will place post-it notes within the categories above in the following sequence:

What current challenge is keeping you up at night?
When that challenge is absent what are you doing instead?
How will your LN classmates see you making progress to solve the challenge?
How will LN support you?
Specifically, how can we best help you for the next 12 months?

9:30-9:45
BREAK
9:45-10:00
Mike Cardus

All LN

Walk the wall we added information to and read what others wrote

10:00-12:00
Mike Cardus

Shuffle table groups … new people to new tables

Leadership is a Process. Knowing how to deal with ambiguity and complexity is a skill
Experiential exercise move from simple to complicated to complex tasks
Team Performance Model
application to LN
application to the process of leadership
connection to the morning

12:00-1:00
LUNCH
1:00-2:45
Dr. Nancy Askins, LN '04

Enhancing Your Personal Style (DiSC Personal Style Profile)


2:45-3:00
BREAK
3:00-3:30
LN Alumni Panel Discussion

Making the Most of Your Year with Leadership Niagara

3:30-4:00
Mike Cardus

Leadership is a process. There is no such thing as a detached, free-standing leader-follower role relationship. There can be no purpose setting a leadership role per se: Lead who, where, why? Get everybody going in what direction? For what purpose?   (Clement 1994)

‡Leadership is a process of trust-attracting or trust-repelling
‡Overview of trust attracting / repelling systems

4:00-4:15
Mike Cardus

Check in with the LN class

How are we doing?
What do you like? dislike?
How can we improve tomorrow?

4:15-5:00
BREAK
5:00-6:00
Dinner
6:00-6:30
Guests Arrive/Cocktail Reception (Cash bar)

Spouses and significant others welcome for cocktails and overnight stay

Mixer with LN Alumni and Board of Directors

 DAY 2
7:15-8:00
Breakfast
8:00-8:15
Molly Anderson & Tasha Villani, LN '11

Morning engagement activity

8:15-8:30
Class Photo
8:30-9:30
Dr. Nancy Askins

Regional Assets Exercise

9:30-9:45
BREAK
9:45-10:00
Mike Cardus

Mike will explain the class's 1st field assignment.

Distinctive : Working Well : 6 months better

LN will be supplied the template and Mike will email them more documentation. This is just an overview to explain what they will complete at home.
Each LN will be sent a document to complete identifying what is distinctive about their role and their process of leadership within a chosen area (i.e. work, family, politics) … what is working well … and areas to make small improvement on over the next 6 months
If they wish they will share a similar document with their teams – asking the team to identity what is distinctive within the leadership process of the team … what is working well … and areas to make small improvement on over the next 6 months
Each LN will be sent a document to complete identifying what they want to do more of (distinctive, working well) and what improvements they feel will make an impact over the next 6 months. This will also document some action steps to make progress.
Each LN will send this document to Mike …. Mike will review and share feedback to each person potentially connecting this with LN coaching and mentoring.
We will refer back to this document at each monthly session. We will evaluate progress on this document at the Midyear retreat

10:00-10:30
Mike Cardus

Coaching Teams (people self-select teams of 3)

Return to Current knowledge – Observer progress – Class support

Teams of 3 will identify 2 post-it notes from each column (current knowledge; observer progress; class support) – they will write then down. —  Note – this does not have to be the persons post-it-note it is better if they choose one that is not their own.
For each area the coaching team will document: a.     The challenge; b. What (if anything) we've learned from our time together can be applied to make progress on the challenge;  c. Suggestions on how to solve or how they have solved similar challenges.
Mike (or someone) will type up these responses and send them to the class

10:30-11:30
LN Staff

Useful and Applications from the 2 days ….

Each table will be asked to make 2 columns on flip chart paper:

What was useful about the past 2 days?
How you will apply what was useful within your work?

11:30-12:00
Closing remarks and next steps..
I'll share some images and feedback from the Leadership Development retreat soon.