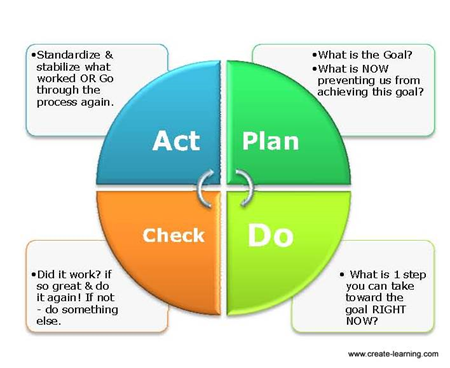 Plan:Do:Check: Act model originally credited to Shewhart 
Processing Team-Building Activities:
When facilitating a team through a challenge taking breaks to evaluate what is happening during the action and the team's next step is useful.
When involved in challenges, individuals on teams are really close to the problem, and taking a Plan:Do:Check:ACT (PDCA) break will create clarity and teach a model of action steps and solutions finding in real-time examples.
Here is how the model works;
Before the team-building activity…you (the facilitator) explain the PDCA model and explain that every 3-5 minutes, you will pause the action act ask the model's questions.  Even if the team is doing awesome every 3-5 minutes, the action will stop, and we will quickly go through the model.
Here is the model;
Plan
Revisit the goal.
Explore (quickly) one and only one obstacle in our way of achieving the goal
DO
About the one obstacle, choose one and only one action step that can move us closer to the goal.
Check
Now that you have done that one thing, what worked?
Act
If it worked; Can you do more and continue through the process again?
If it did not work; Have you stopped doing it and go through the process again.
This is from Quality Tools For Quality Teams Development Process.