I've delivered variations of this workshop and talk at conferences and to teams in many places.
Highlighting that systems-drive-behavior, there is no special
'leadership personality'
… Within any team when someone is great at their role people see them as a leader.
Competence = Comfort = Observed Leadership Behaviors
There is some good and useful content in the slides. Many are too wordy and I need to edit and condense, but sharing the slides on my blog you can read them.
Usually in the workshop we only get about 1/3 through the slides then we have break-outs discussions and application time.
Hope you enjoy the presentation and notes, any questions and to hire
Mike
to lead this Quality Leadership Workshop,
or some other team building & leadership consulting and development,
for your conference and team contact 
mike@mikecardus.com
call 1-716-629-3678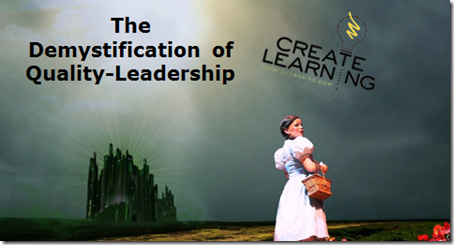 Overview:
An interactive examination of what Quality leadership is and how you can leverage existing knowledge, competencies, Quality Practices, tools and initiatives to improve your organization, team and self.
Outcomes Include:
Enhanced accomplishment of goals on-time within quality specifications and within budget
Capitalizing upon the innovation and motivation of the people who work along with you to complete the work
Great leadership is one of the most valued of all human activities. Within every part of our lives from work to family to friends to be known as a good leader is a great accolade. It signifies the talent of bringing people together and getting them to effectively work towards a common goal, to co-operate with each other, to rely upon each other, to trust each other. It evokes the warm and gratifying prospect of being part of a successful team or organization. Everyone LOVES being on a Winning Quality team, they LOVE the leader who led them to winning even more!
But good leadership within quality teams is also seen as one of the most mysterious things to achieve.
In this highly interactive workshop we will demystify what is takes to be a Quality-Leader. You will leave with a clear and distinct understanding of what Quality-Leadership within your work and life is, and how to maximize the talent you already have to continually improve the quality of your organization, team and people.
Plus these Leadership skills;
Create an Organization and Team that attracts trust and talent.
Use the 'Cascade-of-Leadership' to increase the quality and throughput of your organizations work.
Steps to develop high performance quality teams.
Steps to lead high performance quality teams.
A formula that can be used to match the right person to the right work. Ensuring the task is completed on time and within quality standards.
Knowing your Quality-Leadership Strengths.
How to determine strengths and constraints in other leaders and what to do about it.
Improve the problem solving and decision making of yourself and others
 Learn More
Interested in Increasing the Leadership Capacities of your Organization and Team? Contact Mike today phone 1-716-629-3678.