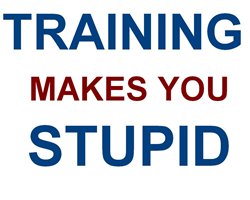 In 2009 out of desperation with a group one day, I created a Team Building Activity called 'Bottle Tower.' I shared the activity with Thiagi, and you can see it in his gameletter.
People contact me asking about the "Right way to lead the activity"… Below is one interaction.
Mike, I saw your Bottle Tower activity on Thiagi's website and have a couple of questions. What is the most effective size of the water bottles? I assume they are filled with water rather than empty. Correct? Also, being a visual learner, I wonder if you have any visuals of what successful towers would look like. Many thanks. It looks like a great activity. I have a team of 13 software developers with that, I am doing a cross-cultural workshop. Appreciate your input…
My response…
I originally came up with the idea of 25 Hard Plastic Nalgene Bottles. Since then, I have led it with all types and sizes of bottles.
The size and kind of bottle doesn't matter much; thee bottles can be full or empty – that is up to you as the facilitator to decided.
Being that I believe in facilitation and that 'my solution won't work for you' my response to the photos is – Try it and see what happens.
The power of any experiential activity is not in Following the Rules…it is in how people work together. The activity is just a vehicle to focus on teamwork and creativity.
Just like at work, you set guidelines and telling people the 'right' steps to take is micro-managing. Give them the guidelines you control the process, they are in control of the path they take to achieve the end goal – which is a tall Free Standing tower of bottles with a rope, used in some context.
Think about;
What is the goal of the company.
How will you contribute to the people achieving that goal.
How might the bottle tower be a catalyst for planning and work with the group.
In what ways will you, the facilitator, make that happen?
How will they know that you are contributing to their work?
Take some photos of the tower and share them with me. And let me know how you facilitated the experience.
There is no 'wrong way' to do this…I am wrong, the wrong way to do this is to NOT have the participants find meaning in what they are doing.
You are a talented and smart facilitator, and using your judgment is what they are paying you for.
Perhaps I didn't answer his question…
His response…
Mike, sorry to say my co facilitators want to go with another team building activity. They are concerned about the outcome…want to see pictures of possible outcomes. I explained this is about the process, not the ta…ut… Personally, I like this activity and plan to use it on another occasion and I WILL send pics. Thanks again for your input. Have a nice weekend
What do you think?
How would you have responded to this request? As a facilitator how much control do you have? What is the purpose of leading an experiential activity?
Would love to hear your thoughts on this.
image by gingerpig2000