Pitfalls to Avoid in Creating and Leading Teams
Originally this was written for a workshop called 'Long Term Implementation of Lean Six Sigma within Organizations' … and with some changes the content is applicable and valuable to anyone who manages, works on, and puts work teams together.
It is important to differential between Teams and Teamwork.
Groups may require teamwork even when they do not need to work as a team.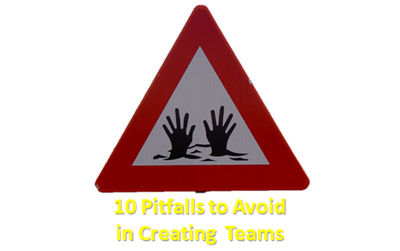 10 Pitfalls to Avoid in Creating & Leading Teams …and some ideas of what to do about it.
1. Failure of Management to be involved in each step of the team's work.
2. Failure to Write it Down
3. Failure to Formalize and Communicate Rewards and Recognition for the Teams Work
4. Ignoring the Potential of "Converted" Resistors
5. Failure to Assign Your Best and Brightest
6. Failure to Utilize Ground Rules in Team Meetings
7. Using Facilitative Leadership to Eliminate Personality Differences
8. Jumping to "Divorce" too Early
9. Expecting Teams to Solve All Organizational Issues
10. Intervening Too Much
The 10 Pitfalls are from 'Six Sigma Team Dynamics' George Eckes
What do you think?
Which of the 10 pitfalls and some steps to avoid them are applicable to your team? Which 2 are you doing really well…what are you doing that makes you believe that?