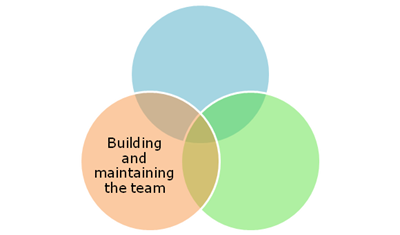 3 circles image = TM John Adair (1)
Leading & Working in teams 3 areas of focus are necessary;
Team: the need to develop and maintain good working relationships among team members. This is primarily about people and how they relate to each other.
Individual: the need to fulfill their own individual needs, such food, shelter, security, respect, and alignment with values + commitment.  Individual needs should be met along with the group and task needs.
Task: the need to accomplish the common task or solve a problem. This is what the group is talking about and is usually seen in terms of things rather than people.
When leading and working with teams a focus on the relationships and development of the team is requisite. Teams that are high functioning and deliver consistently great results come from a purposeful process and method. Team Dynamics include behaviors and tasks. These are aligned with goals, values and commitments that are discussed, coached, and evaluated throughout the life span of the team.
The following 12 areas of focus for building and maintaining the team will aid in moving the team into high functioning, and delivering amazing results. Additionally like Achieving the Task, Developing the Individual; Building and maintaining teams requires regular checks and the proper people to make the team function, with tasks that are matched to their skills; cognitive ability; values and commitments.
Objectives: Does the team clearly know and accept them?
Standards: Do they know what standards of performance are expected?
Safety Requirements: Do they know the consequences of infringement?
Size of team: Is the size correct?
Team members: Are the right people working together? Is there a need for sub-groups within the team for this project?
Team spirit: Are there opportunities for building and rewarding teamwork into jobs? Do methods of pay help develop team spirit?
Discipline: Are the rules seen to be reasonable? Is the manager fair and impartial in enforcing them?
Grievances: Are grievances dealt with promptly? Is action taken on matters likely to disrupt the group?
Consultation: Is this genuine? Are ideas and suggestions welcomed and encouraged?
Represent: The feelings of the group are accepted and can be represented by the team leader, if required?
Briefing: Is this regular? Does it cover current plans, progress and future developments?
Support: Does the managerial leadership visit people at their work when the team is apart? Does the managerial leader represent support to the appropriate team members in the manner that is most effective to that person?
Once you answer the questions above, you will have a solid plan and focus on  building and maintaining the team.
Although keep in mind that the team must also create a balance between Achieving the Task, Building & Maintaining the Team, and Developing the Individual.
Referenced:
Thomas, N. (Ed.). (2004). Adair on teambuilding and motivation. London: Thorogood.