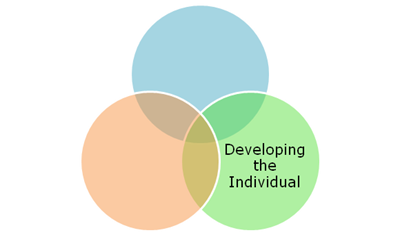 3 circles image = TM John Adair (1)
Leading & Working in teams 3 areas of focus are necessary;
Individual: the need to fulfill their own individual needs, such food, shelter, security, respect, and alignment with values + commitment. Individual needs should be met along with the group and task needs.
Task: the need to accomplish the common task or solve a problem. This is what the group is talking about and is usually seen in terms of things rather than people.
Team: the need to develop and maintain good working relationships among team members. This is primarily about people and how they relate to each other.
When working on a team, the people/individual contributions will yield the most significant benefits. People need to be treated as individuals, and a requisite step for any team leader is knowing the strengths, skills, cognitive ability, values & commitment of the people on the team.
The following 16 areas of focus for developing the individuals on the team as people who can contribute and work, making decisions, and using their judgment to accomplish tasks will create an environment of success and achievement for the organization, team, and the people.
Goals & Tasks: Have they been agreed upon and developed into Quantity:Quality:Time Frame:Resources (QQTR)?
Orientation: Does the person know their team members and the organization?
Achievement: Does the person know how their work contributes to the overall results and purpose?
Responsibilities: Has the person got a clear and accurate job description? Can they be delegated more tasks?
Authority: Does the person have sufficient authority to complete their task?
Training: Have adequate provisions been made to ensure they have the requisite skills, both technically and as a team member?
Recognition: What is the method for individual contributions? Emphasis on success? How; what are the method and processes? In underperformance, what way is used to coach and re-align?
Growth: Does the person see a chance for development? Do they have a clear and distinct understanding of the skills, cognitive capacities, and path for advancement?
Performance: Is it regularly reviewed? By who? When? What is the method?
Reward: Are work, capacity, and pay in balance?
The Task: Is this person right for the task? Do they have the necessary resources?
The Person: How well does Management know them? What makes this person different from everyone else?
Time/Attention: How much time does the person's immediate manager spend with this person listening, developing, coaching? Is it enough?
Grievances: Are they dealt with promptly?
Security: Does the person feel secure in their work environment, mentally and physically?
Appraisal: In the overall performance of each person regularly reviewed in a face-to-face discussion?
Once you answer the questions above, you will have a solid plan and focus on developing the individual on the team.
Although keep in mind that the team must also create a balance between Achieving the Task, Building & Maintaining the Team, and Developing the Individual.
Referenced:
Thomas, N. (Ed.). (2004). Adair on teambuilding and motivation. London: Thorogood.