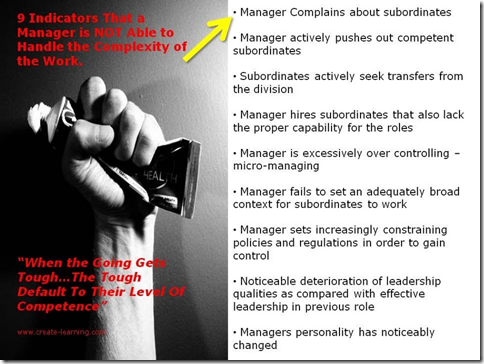 This slide (which is from Before the Promotion he was nice & had potential) resonates with people.
We all have had and possibly been that manager. The one who was placed into a role by a bad system that was too much for us to handle.
Each of the indicators in the image above is NOT because the manager is mean or a jerk well maybe they are that, then you have other problems.
Most of the time the person was placed into the position, and the complexity was too much or they did not Value this new level of work, or they lack the ability to add value to subordinates work through their skilled knowledge.
These are all things that OUGHT to have been considered and identified before offering the promotion.
When the going gets tough…The tough default to their level of competence.
When faced with challenges that the manager cannot handle, they NEVER miraculously figure it out, they default back to their highest level of competence. When that level is not sufficient to deal with the work, failure is the option.
What can be done about this?
Institute requisite mentoring and coaching within the organization.
Craft interview questions and processes that will enable you to determine if the person has what it takes to fill the position.
Invest in skill training and learning for staff and yourself.
When you notice the person is exhibiting negative behaviors and impacting the department take proper steps. Remove (de-select) them from the position before any future harm gets done.
Hold the managers accountable for the work of subordinates.
The executive team has a succession plan in place and has a decent knowledge of who may be ready (has the capability and with skill training will be prepared) to fill management positions, there are processes and reason for promotion.
Offer a support structure for new managers.
Ensure that managers have all the necessary resources to provide the necessary resources to their teams.
Treat people like adults and be honest.
I wonder what you think- How can organizations ensure that when people become managers or managers are promoted that they are successful and have the right capacity and capabilities to handle the work?
This can be avoided the challenges of hiring, developing, working with managers who are unable to fill the necessary work of the role. The solution is a mixture of Organizational Process Creation, Skill Training, Leadership Coaching, and Interviewing methods that will accurately solve the indicators above. Contact Mike to work with your organization, team, leaders to find the solutions.