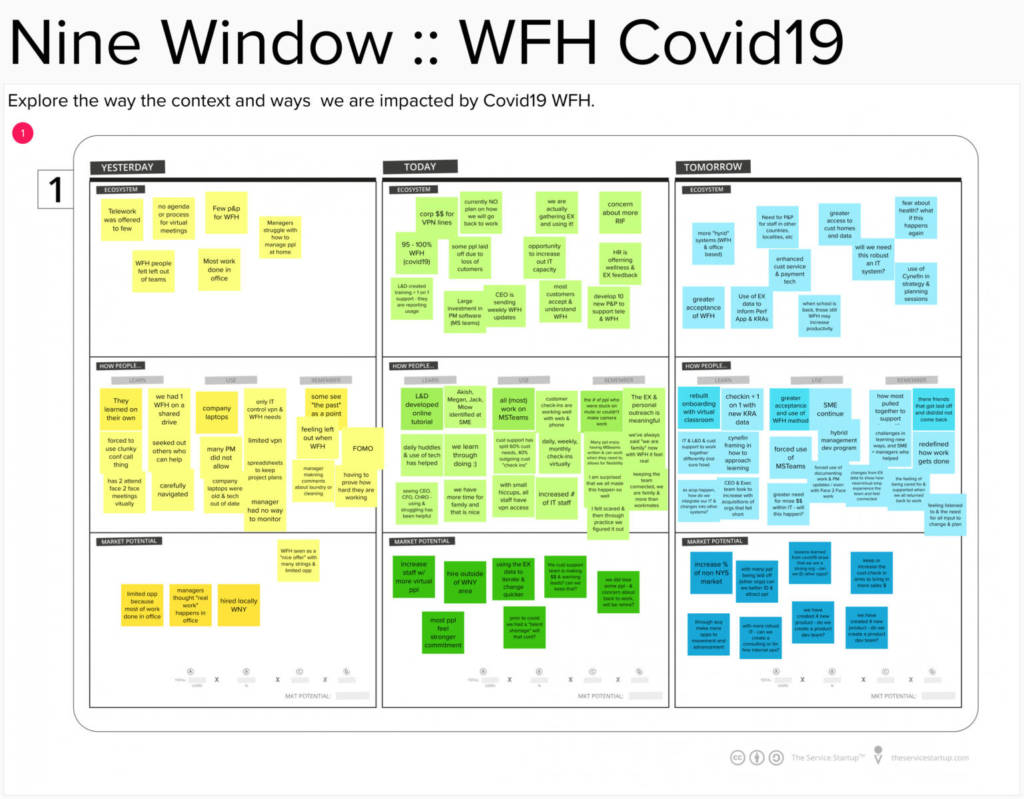 As change happens how can you be aware of what is and is not working?
Things are changing within your work and organization. How are you understanding and discussing what is working well to increase and what is not working well to decrease? 
There are many innovation processes that you can use and ought to be using right now to create better odds for current and future opportunities. We know from other workplaces that when chaos or significant disruption happens, the planful organizations that use the opportunity to make a useful change have better odds of success. 
Perceiving from multiple angles to innovate
Below is a video of an innovation process called Nine Windows that I facilitated with an Executive Team who wanted to explore what new ideas and Market Potential exist from the changes. 
You will see in the video that I led a virtual meeting using design thinking software, where each team member from their homes could add ideas and sticky notes to our virtual framework to solve problems and be innovative. The team enjoyed the innovation session. 
---
How you can use Nine Windows
To use the Nine Windows, write down the problem or the current system for solutions in the 3 x 3 matrix center. 
Next, explore the problem at each of the three levels:
Super-System: External environment and components that the problem or system interacts with or may interact with.
System: The problem or system created.
Subsystem: A component or parts of the problem or system
Once you have completed the present or current system, super-system, and subsystem. Move into the past system, super-system, and subsystem. Ending with the future system, super-system, and subsystem.
One idea that works to take the innovative ideas and continue to discuss and evaluate is the Solutions Matrix below.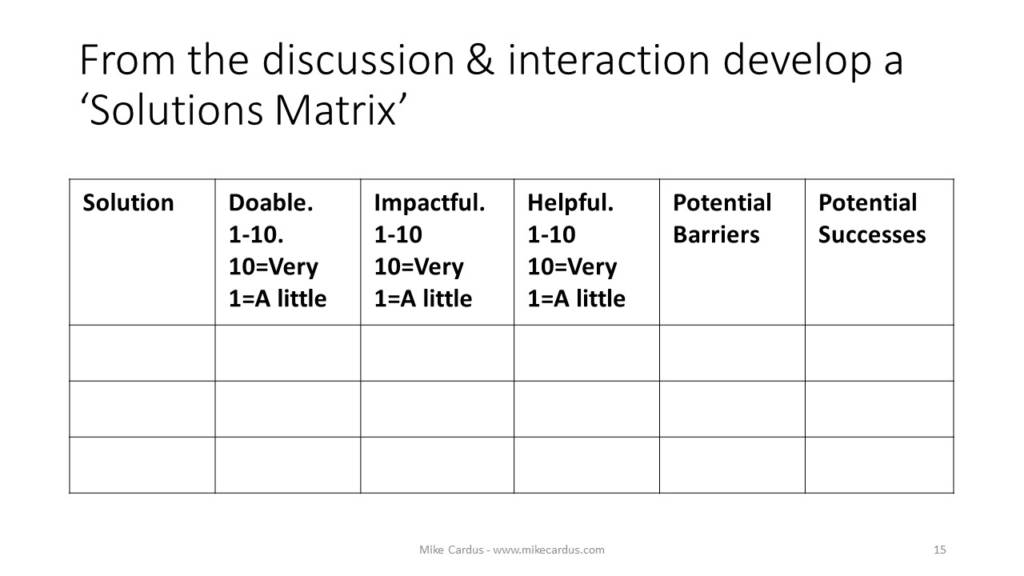 For wicked problems or complex challenges to be more transparent, your organization and team need to have a process to break stuckness and discuss multiple approaches. When you use nine windows, you can see the interconnected pieces and determine how you would like to improve the future.
When change takes place, the involvement of multiple people and working with and adjusting the solutions will increase the buy-in and learning for problem-solving.