I was invited to Kuwait to lead a series of 2 day workshop focusing on the '7 Steps to High Performance Teams' model. The primary corporate sponsor was Zain Telecommunications.
While in Kuwait Zain invited me to their headquarters in Kuwait City to work with their Team Leaders & Managers for two days.

Outcomes of the Team Building & Leadership Development:
How to create & sustain high-performance teams using a shared model & language.
Team work to create learning while achieving results.
Facilitative leadership of teams.
Effective prevention of & intervention methods for maladaptive team member behaviors.
Steps to create buy-in for the team projects from people who are outside the team.

What happened during the Team Building & Leadership Development Workshop?
An interactive format combining team building activities & simulations that are connected to examples of how the team works.
Co-develop a Team Building Model that is able to be immediately transferred to the team & team success.
Active discussion, based upon the 7 Steps to High-Performance Teams.
Complete action plans to move the team forward.
Have fun, laugh and build the team using real examples and real work.
Below are several photos & explanations of what was done & how it applies to the team work & leadership within Zain.

Realized early in the 1st day that while all the team leaders worked for the same company, they did not know each other very well.
An opening dialog to share 1. Who are you? 2. What role do you fill in Zain? 3. What has to happen over the next 2 days for this workshop to be a good use of your time? Created shared expectations & framed areas of focus for the 2 days.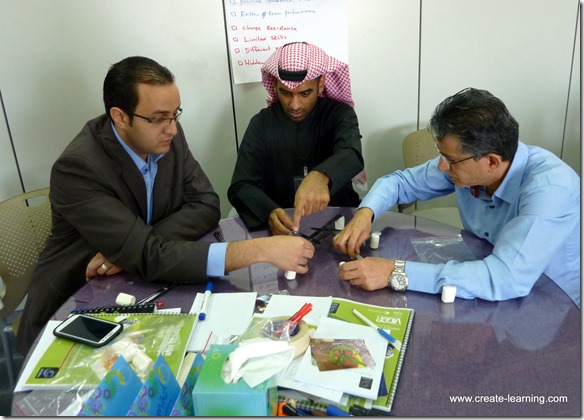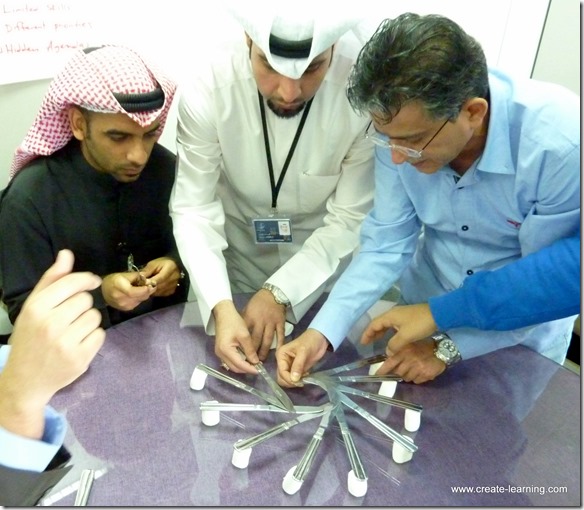 After opening content on Team Complexity & how team leaders can subtract or add value. It was time to illustrate how tasks, teams & individual needs + complexity increase as you become a team leader & manager.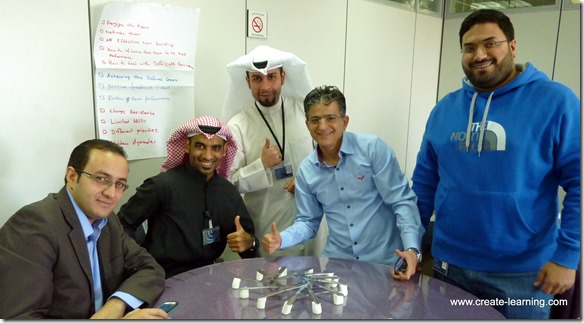 The team building activity is a hands on way to talk about the growing complexity in a team & how each person will adjust & change based upon their Complexity Information Processing CIP + ability to handle ambiguity + quick adaptation of skills & communication from a simple task to a more complex task.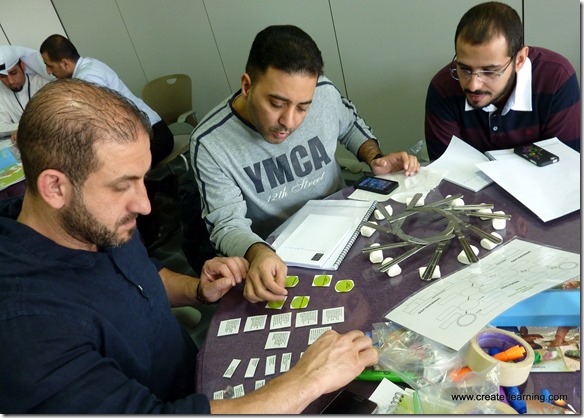 Building the 7 Steps to High Performance Teams Model as a team building activity. Having a team place the steps of creating & sustaining high performance teams into where they feel they belong, lends itself to an examination of the model & how the team sees their work.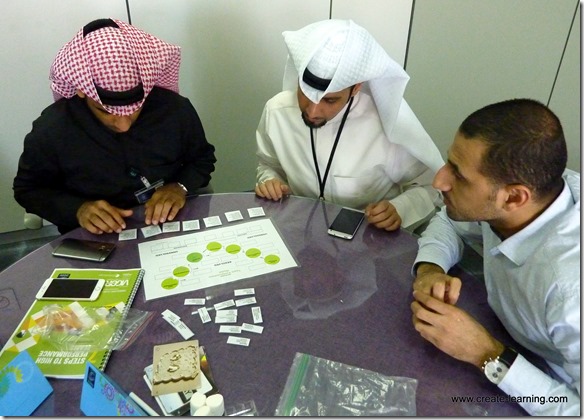 While assembling the model discussions about how the team works, steps to get work done, the culture of the organization, how teams are viewed, & many other areas are explored. This keeps the discussion in the present, moving us to find what's-working to increase & what's-not-working to minimize.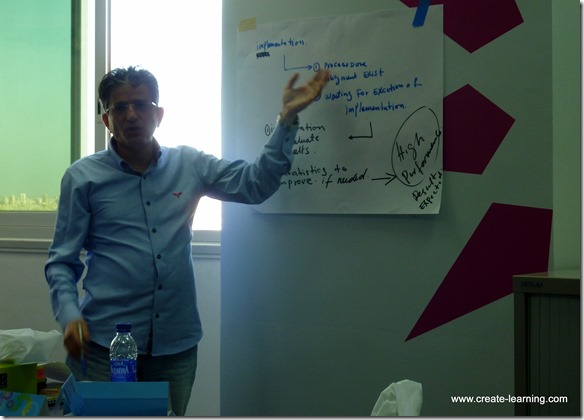 Sharing examples of how the model is being used within the team. Asking people to create a shared boundary & language around team performance. This leads to exploring areas of change, success, & how to manage a team within an organization.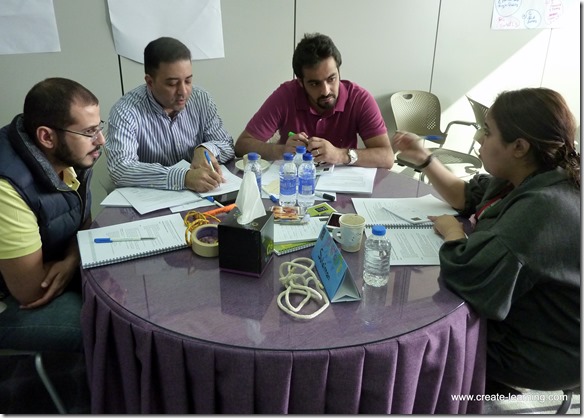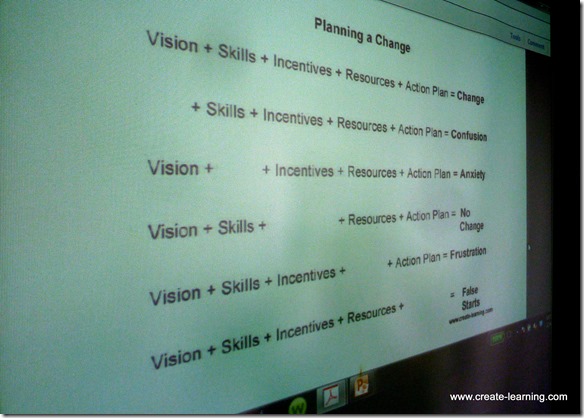 Following a deep dive into the 7 Steps to High Performance Teams model … the team leaders worked through understanding change. Defining how the team + people will show resolute knowledge of where the team is going & have their piece of the teams work be known, accepted & able to successfully complete.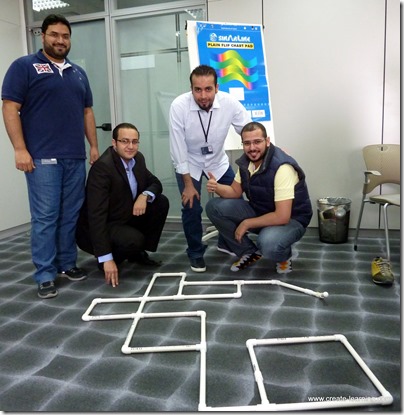 On day 2 when everyone feels that they are gaining competency of the skills & application. They were challenged to see how they can apply their new learning to team tasks. This team-building activity shows that the simple (or ordered) way approaching complex & innovative work is constricting.
There is no way of knowing what this will look like in the end & having an end in mind will actually harm this process.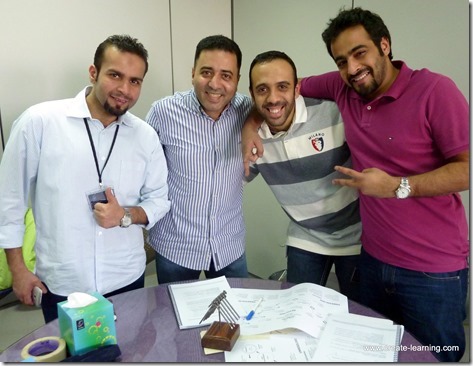 With a constant attempt to keep content, application & interactive discussion combined in a way that will best get the outcomes achieved. We ended the 2 days with learning & reflection. Using the metaphor of a team leader operating as a value added support to keep the team working & in balance.
It was a great 2 days of consulting & team development, plus being in the Middle East was an amazing experience. The team leaders & managers of Zain Telecommunications impressed me with their knowledge, ability to find connections of the team building with their work, plus ability to laugh while taking themselves seriously.