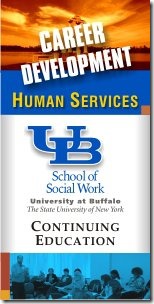 The University at Buffalo School of Social Work Continuing Education Department and I are offering a 1 day – 6 hour Training workshop:
Date(s) and Time(s)
11/14/2013 9:00:00 AM – 4:30:00 PM
Location: UB Center for Tomorrow, Flint & Maple Rds., Amherst, NY
Hours: 6
CEUs: 0.6
Cost: $105.00
Lunch Included: Yes
Description:
New course! As managers, we are often totally unprepared to conduct an effective interview. We interview candidates who have been coached or stayed up late the night before practicing their answers to what they think we will want to know. We often ask the wrong questions and allow our stereotypes to get in the way. Many of us end up making a decision within the first three minutes of the interview, based on misinterpretations and incomplete data, and are using 'yesterday's' strategies in hiring.
To effectively hire the talent you need to move your organization forward, you must change the way you prepare role (job) descriptions and the way interviews are conducted. It takes a different strategy to hire talent and a competency-based process enables you to prepare hire talent based on the competencies you need. Competency-based interviews use questions that ask the candidate to give examples of how they accomplished things, not the typical "what would you do if" or 'tell me your strengths' questions. The goal is to be able to predict the future behavior of the person you hire. Current research is demonstrating that hiring is more effective with a competency-based process. Most sophisticated U.S. and international employers are using competency-based systems to recruit, interview and select employees.
Bring to the course one job description that you currently use to redesign and create competency-based interview questions.
Learning Objectives:
Understand how most managers currently conduct interviews, so you can replace ineffective and/or detrimental hiring habits with competency-based practices;
Identify, from the role (job) description, the specific information you need to know about the candidate;
Design competency-based questions for the role (job) that capture the specific information needed to make the most effective candidate selection.
select the appropriate link on the Registrations and Training page for the printable form
Get Information on Driving Directions, CEUs, Certificate Programs, Frequently Asked Questions, etc.
Driving Directions to Training Sites
michael cardus is create-learning