I've been thinking and wondering about a common change management pitfall:
Lack of Senior Management Support for the change effort
This lack of support can have many lenses:
Purposeful lack of resources
Poor planning
Too much, too fast
Ambiguous or minimal reinforcement
It is just a bad idea
While working with a manufacturing company. We are coaching the Senior Management team on organization design and complexity while coordinating coaching and implementing lean and Toyota Kata coaching into a cross-functional team on the manufacturing floor.
We've found that Sr Management wants to make change happen and is willing to support change efforts through coaching, physical movement of machines workstations, integration into key result areas, holding focus groups, and innovation team meetings …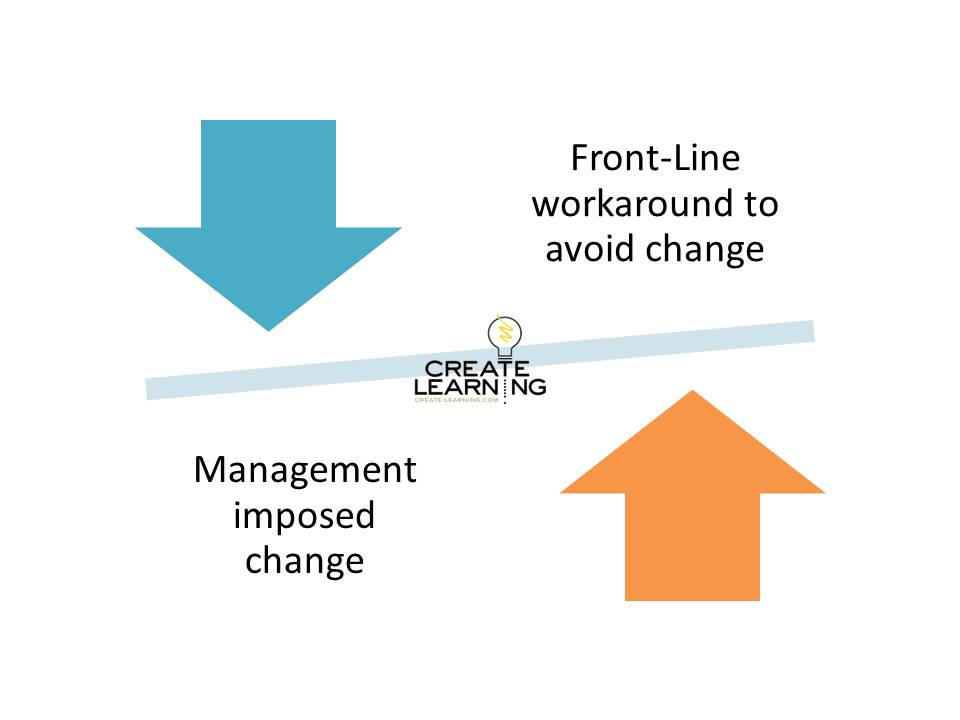 We've also found on the manufacturing floor that many things change without support from Sr Management. Most of the change stems from workarounds created in response to avoid the perceived bad ideas from Sr Management change initiatives.
Most of the change is stemming from workarounds created in response to Sr Management change initiatives.
Seeing this, we've been reworking and reconsidering what part the people asked to change (process owners/holders/users) and management (process champions/guys in suits/office workers) play in working with this paradoxical situation.
How do management and process owners work together to make changes?
When has a bad idea gone too far, and how do we recognize it as a bad idea and not just a failure of effort?
Noticing that change that sticks comes from people creating workarounds because they feel that management's change initiatives will not work, are wrong, not liked, etc… what is helpful about knowing this?
Noticing that management chooses to push harder on specific change initiatives when they see resistance – causing more workarounds and people to 'follow new SOP's in language only' how can this be useful?
This has been an interesting finding, and I look forward to seeing how we can make this helpful paradox and amplify areas that work and muffle those that don't.
What do you think?
Has this happened to you, where you just created alternative ways to complete your work because management is pushing a change initiative?