Stefan Norrvall wrote a blog 'the silly practice of performance reviews' in response to a blog I wrote 'What Criteria can be Used to Judge the Performance of People at Work?'
Reading his response we agree on many things.  System-Drive-Behavior and Organizational Design / Structure is the Ultimate system that drives organizational behavior.
If we have a manager-once-removed | manager | subordinate vertical management structure that is not 'Requisite' – meaning:
…any scheme of employee evaluation is going to be a useless effort. Creating more negative behaviors – politicking, scapegoating, manipulation, back stabbing and rumor mongering.
The disagreement is in this line from Elliott Jaques:
"An individual's performance is the relationship between targeted output and achieved output."
Stefan states "it is way too simplistic in today's complex business environment. Firstly all targets are arbitrary so measuring performance relative to an arbitrary target is just as arbitrary."
This is where we don't agree.
I feel that in a complex business environment the 'by when' targeted achievement of the 'what by when' of a goal is more helpful in understanding the priority of the work, assisting people in  knowing accountability & authority of each person, how much effort should go into the task, managements ability to delegate and align steps to achieve more complex goals, examining the talent pool and ensuring that people are using their full capacity in the work and in performance expectations, who may be best to promote and how they are maturing into the expected Level or Work of their current into future role.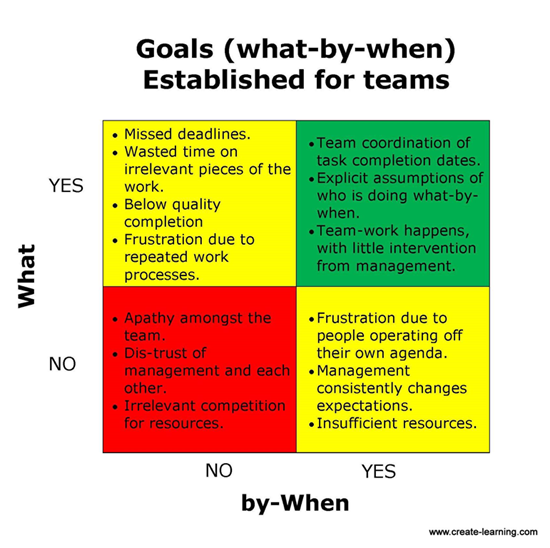 It may be "arbitrary"  and it is this arbitrariness that allows for human judgment in the work allowing for the work to be completed in complex (readily changing) environments.
All  Targeted Output – within a goal that is delegated this is the by-when established by the person delegating the goal to you  – are most likely arbitrary because there is and can never be a machine or algorithm that can predict the serial processing and multiple lines of if-then work and changes and unforeseen obstacles that will happen in work.
All achieved output – within a goal this is when you actually completed the goal – are also arbitrary, for the same reasons above. If the organization or team is to move towards completing goals then an alignment of tasks that have to happen to move towards (in concert) the goal is needed – defining expected 'by-whens' and examining them with the achieved 'by-whens' ….
It is within these Targeted & Achieved outputs managers and managers managers can use the 8 Questions and create a possible inter-relator agreement on the managers work and their conception of the output of the employee.
My favorite line from Stefan's post:
"I agree wholeheartedly that feedback is essential but I think annual reviews should be banned; they have no place in a modern organisation. I really do wonder for whom they are valuable, not once have I heard a manager nor a staff member even hint at getting any value from them. Someone in HR however, most likely with a nonsense target about how many have been done, harasses anyone who still has not completed this complete waste of time."
YES!
The elimination of the painful yearly charade of sitting with your manager and taking 15 minutes to agree on what was your fault and agree on what 'Exceeded Expectations' vs. 'Below Expectations' – is a left over practice that is only culturally accepted as "this is how we have always done things"
Stefan and I both have many better ways and tools to work with this.  They all point to removing the cynicism in the workplace – and developing systems that drive and attract trust and the belief that everyone wants to do their best work.
What do you think?
What is good about performance reviews? What alternatives have you found that work?
* the title of this post 'Performance Without Appraisal' is a chapter title in "The Leader's Handbook" by Peter R. Scholtes.