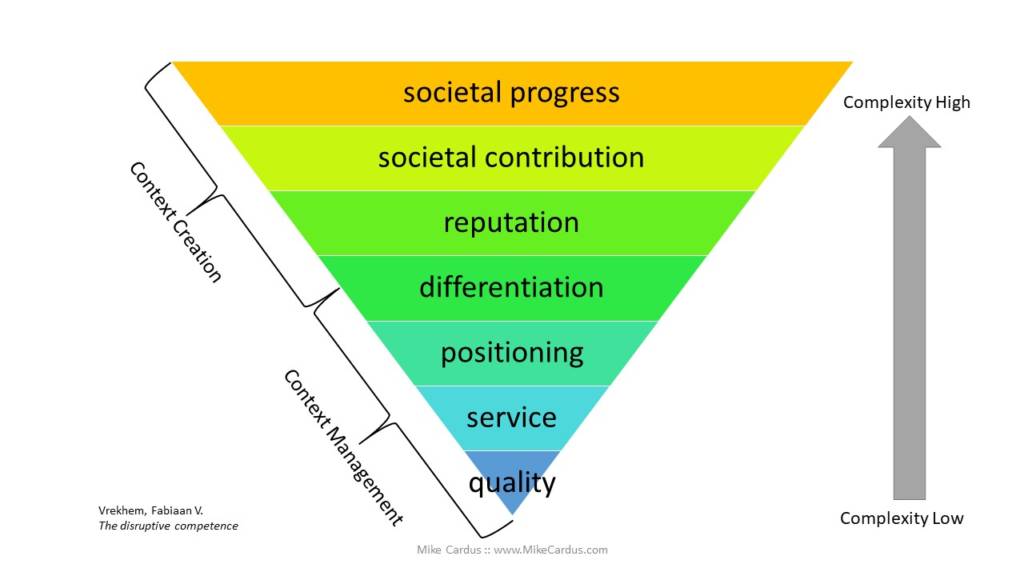 When you are sitting in your office or working with your team, you often wonder, "How do I beat the competition?" or "In what ways can we scale and grow the capacity of this business to make more profit?" … If you do not think these things, I am jealous of your practices.
While working through a merger, I was recently in several meetings with both organizations' executive teams. I shared the image above from 'The Disruptive Competence' written by Fabiaan Van Vrekhem, and the Management Team came alive. 
"The more an organization succeeds in adding dimensions to its product, it will create a customer willing to pay a higher price for it for the simple reason that the value proposition has increased as well" – Vrekhem.
Looking at the image, the Complexity of the work, and the level of strategy and market opportunity increase as you ascend from Quality to Societal Progress.
From Quality to Societal Progress – Scaling for Success
Quality: The required business model for quality is observation. Being able to transfer your knowledge, skills, and tasks into something someone will purchase.
Service: The required business model for service is interpretations. Being able to choose between equal alternatives and see limited cause and effect.
Service is required to scale your quality products or services.
Positioning: The required business model for positioning is integration. Being able to align the different services, constraints, and diverse pathways into a coherent vision and action.
Positioning is required to scale your services into a whole business that can operate with sales, products, customer service, follow-up, and business units.
Differentiation: The required business model for differentiation is conceptualization. Being able to hold multiple concepts (i.e., customer service, sales, finance, quality management, innovation) and products together in your business. While viewing these concepts and products, integrate the parts to produce something new and innovative.
Differentiation will scale your business ahead of those with solid positions. Through innovation, you create new positions, services, and quality products.
Reputation: The required business model for reputation is abstract conceptualization. Being able to mentally and physically step away from the organization's physical work and identify how others see and feel your work, plus your ability to craft employee and customer experience that builds this reputation.
Reputation comes from solid differentiation in the marketplace. You cannot have a dependable reputation unless you have differentiated yourself through your position, service, and quality.
Societal Contribution: The required business model for societal contribution is abstract conceptual interpretation. Being able to add or create meaning or a framework or large-scale operational governance that impacts multiple businesses and communities.
Societal Contribution is a rare air that generally, large multi-national organizations fill.
Societal Progress: The required business model for societal progress is abstract conceptual integration. Being able to make sense of multiple, multiple unknowns, knowns, and unknowables and see the parts and whole to make sense of universal progress.
Societal Progress is even rarer and is what governments and groups like the United Nations attempt to work through.

How can I scale or increase the capacity of my business or team?
To work through the Quality to Societal Progress idea, start at quality and work your way up until you find your current business. At each level, ask: 
How do we know that we are at this level of work? 
What evidence do we have?
How secure are we in this evidence? 
Where are we currently weakest? 
What is making us weak at that level? 
What does strength or capacity look like at that level? 
How will customers, employees, competitors, and stakeholders notice a difference when we are better?  
What risk is inherent in growing to the next level of complexity?
What reward is inherent in growing to the next level of complexity?
How can we develop multiple safe-to-fail experiments to learn what happens when we decide to grow or scale?