Every employee is entitled to have a competent manager with the capability to bring value to their problem solving and decision making. Contact Mike make your team and leaders better.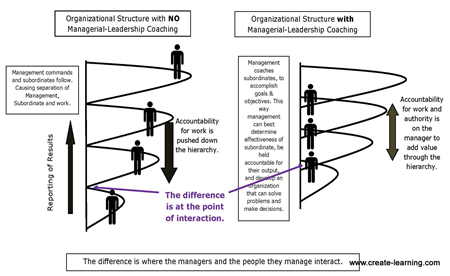 This image above explores the differences between an Organizational Structure that has NO managerial-leadership coaching and an Organizational Structure WITH managerial-leadership coaching.
The image on the right reflects the 'Cascade-of-Planning' model or in Lean Manufacturing the Hoshin Kanri used in the Toyota Production System. The difference is where the manager and subordinate interact.
WITH OUT Coaching
Interaction happens in limited time-frames and generally only when something goes wrong.
Accountability is forced down the hierarchy and the idea of failure, development and growth is often frowned upon.
Management is quick to blame employees and see the 'people as broken'.
With Coaching
Interaction is regular and expected, once the manager is accountable for the output of the subordinate, then give-and-take must happen in task delegation and work being accomplished.
Accountability is on the Manager to ensure that subordinates are working to their effectiveness. Improvement in decision making and problem solving leads to improved innovation and work of the team.
Management is able to examine the process-system that the work is being done in and determine what is stopping this person from doing their best.
Interested in enhancing and developing a Managerial Coaching Process within your organization and team? Looking to improve your existing managers coaching skills?
Inspired by Toyota Kata