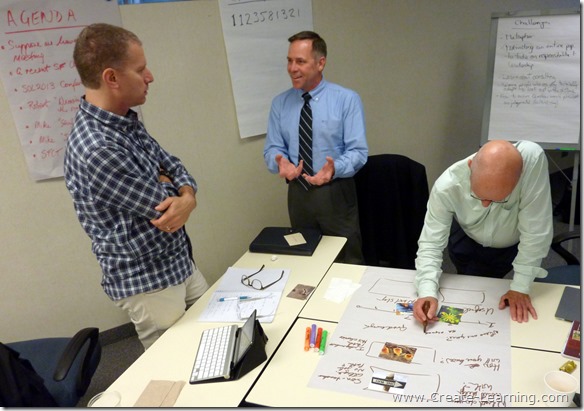 We cannot know + control, + understand all the outcomes that may / will happen. This is where judgment & using process (actions) while examining results (outcomes) shows that great things can happen when a group of intelligent people works together with the proper context & tools. This is innovation & people working to their full capacity.
Work is interactional
Systems-Drive-Behavior. When your Organization Design & Work System is broken you will see broken outputs… people will continue to try & succeed in spite of this brokenness.
Knowledge of what works & how to improve it – is interactional & understood in shared stories of why & how, who, & what happened
Trying to capture "Best Practices" then export them to workplaces, processes & people that are different from where that best practice happened can lead to fads & panaceas.
Breakthroughs happen when people combine share or co-develop multiple pieces of knowledge from 'what works' + 'what does not work'
The more layers of hierarchy & management you have pushing on the work. The more people create short cuts & work around to get the work done.
The people who are involved in the work are generally the experts in the work. Information should be shared with them & they should have resources + autonomy to decide what to improve.
It helps to have a manager who is "big enough" & a company that is Trust Attracting
Positivist Paradigm vs. Naturalist Paradigm
| | |
| --- | --- |
| Positivist | Naturalist |
| REALITY is single, tangible, & fragmentable. | REALITIES are multiple, constructed, & holistic. |
| KNOWER & known are independent, a dualism. | KNOWER & known are interactive, inseparable. |
| TIME-free & CONTEXT-free generalizations are possible. | Only TIME-bound & CONTEXT-bound working hypotheses are possible. |
| Inquiry is value-FREE | Inquiry is value-BOUND |
| | |
Lincoln & Guba Naturalistic Inquiry 1985 page 37.
Isn't this some post-modernistic woo-woo garbage?

I don't think so…
There is NO denial of reality external to human thinking
NO claim about 'eternal souls'
NO 'Magical Serum' that will cure all that ails 'ya
NO claim that you can attract your desire through visualization & actualization
NO excessive positivist belief that negative thoughts repel progress
NO assessment that places you into behavioral boxes stripped of any context
NO relativism argument that 'how things are' within your work is OK because some collective agreed that it is OK.
NO mention of quantum energy with a weak understanding of what that means.
what did I miss?
It is putting work into the hands of experts regardless of rank within the organization
Moving towards an ecological theory of working & flourishing in changing environments where diversity of ideas, skilled knowledge & stories of 'what works' allows for improvement to work.
This Naturalistic Paradigm, I hope, is a Trust Attracting solution.