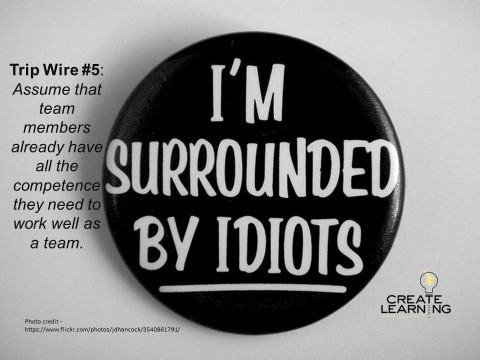 In an earlier post I share '5 Trip Wires in Designing and Leading Teams'
This post looks at:
Trip Wire #5: Assume that team members already have all the competence they need to work well as a team.
There is no right way to create and sustain a team.
When a team moves from implementing to high performance,  managers sometimes assume their work is done. There are great reasons to give the team room to develop their processes and create a strong identity: inappropriate and poorly timed management interventions impair team work. While a laissez-faire managerial approach may also limit the team's effectiveness, especially when members are lacking the skilled-knowledge in teamwork.
It can be helpful for managers to offer coaching and hands-on support as team members develop the skills they need to work well in a team and as the teams learn to work together. There is no magical answer or best practice for how to do this.
I tend to feel that team managers should be themselves and coach plus support the team in the way the team needs to be supported. Meaning that no single style of leadership is better, what works best is what helps the team to achieve their goal while still wanting to work with each other again.