Cross-Functional Collaboration – Action-learning based leadership development
An organization-development process developed for a company. Instead of pulling new and experienced supervisors into a series of classes and lectures, we wanted to engage in action-learning.
Internally we developed the acronym GEEKS (gather, entangle, empathy, knowledge-share) for the process. You'll see from the overview below how each GEEKS area coincides with the others.
GEEKS (Gather; Entangle; Empathy; Knowledge-Share)
WHO
Primary focus on new supervisors and a process to create strong belonging and hear different (novel) perspectives on solving the organization's challenges and obstacles.
Additional focus on existing supervisors to share and enhance their expertise and reconnect with what keeps them within this company and how they are a large part of our future.
Additional focus on creating non-traditional collaborations to bring innovation and fresh eyes to how our company goes about managerial-leadership development, team building, decision making, problem-solving, and innovation.
PROCESS
The approach combines vertical leadership development with an Action Learning philosophy.
Learning happens as an iterative cycle of action-learning-action-learning and coaching.
Research and determine organizational challenges and long-term strategic objectives, priorities, and concerns.
Entangle the challenges and objectives with the Organization Development or Change Management Framework
Determine which areas the participants would come from – engage those departments in the challenges and objectives discussion
Create a cross-disciplinary GEEKS committee to offer critique, championship/sponsorship, and advice
Determine how many people will be in this process (suggested 30 at a time) 
Create entangled-trios (3 people) – Each trio will consist of a new supervisor, an experienced supervisor, and a third person – each trio will maximize diversity. 
Create the process structure and curriculum – review with the GEEKS committee 
Identity and match the Executive Sponsors, Project Sponsors, and Team Coaches  
Create evaluation criteria (using Learning-Transfer-Evaluation-Method) 

TIMELINE
Six months total GEEKS process time
~3 months of preparation and development to get all the pieces together
Six months of process time (see the CONTENT below)
Monthly check-ins with the trios and Team Coaches to evaluate what is and is not working
As mentioned above, in the process – measure learning and application through and post-process
CONTENT
Objective
Develop strategic thinkers to lead in the VUCA (volatile, uncertain, complex, ambiguous) world of work.
Create connections (entanglement) that support cross-discipline learning and development (empathy and knowledge-share).
Each participant to establish individual learning goals that will complement the process and their current and future teams.
Who
People new to supervisory-leadership roles
People experienced in supervisory or managerial-leadership roles
Individual contributor or more technical roles (that have no or minimum direct managerial accountability)
What
Participants will be in entangled-trios (teams of 3)
Each trio will select an organizational challenge and objective to research, learn, and propose solutions or improvements to implement. Most participants will have minimal knowledge of and experience with the chosen challenge and objective, which is purposeful in the design.
Each trio will partner (entangle) with two executives and two project sponsors to guide the trio to information and resources without providing too much direction or clear guidance.
Each trio will have a team coach to facilitate the team's deliberate reflection for learning and development. Team coaches will also meet with team members one-on-one to support the achievement of their individual learning goals.
The final deliverable is a business plan and a 20-minute presentation to all GEEKS participants and sponsors.
How long
Total GEEKS process time of 6 months
2-days face-to-face opening
5 to 7 in-person or virtual meetings during the process
2-days face-to-face report and celebrate to close
Teams will make time to meet and utilize the team coach and sponsors. Generally, teams will meet once a week or every other week.
Expectations
Participate and be a good team member
Submit a business plan and participate in the proposal presentation

RELATIONSHIPS
Executive Management to identify the focus and journey. We must ensure that the challenges and business objectives connect or are coherent to the long-term vision and hopes.
Director Level Management to identify potential current supervisors who would enjoy and find value in being in these trios; plus speak with those supervisors to ensure they have time and are interested.
Project management professionals to support as project sponsors AND to determine how project management and business change or improvement proposals happen
Education department(s) to identify team coaches – and co-create some curriculum.
Possibly internal data/people-analytics and research partners or partner with a University or local College to develop research and people-analytics data to evaluate the efforts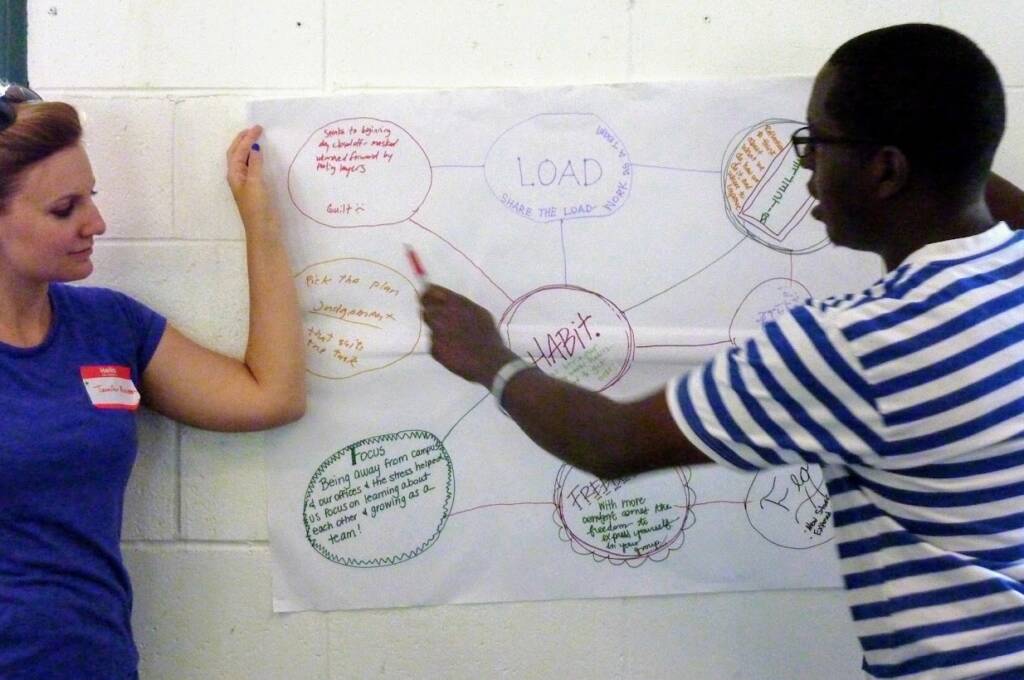 IMPLEMENTATION
Learning categories from a New England Journal of Medicine Group case study on a similar process within the Mayo Clinic.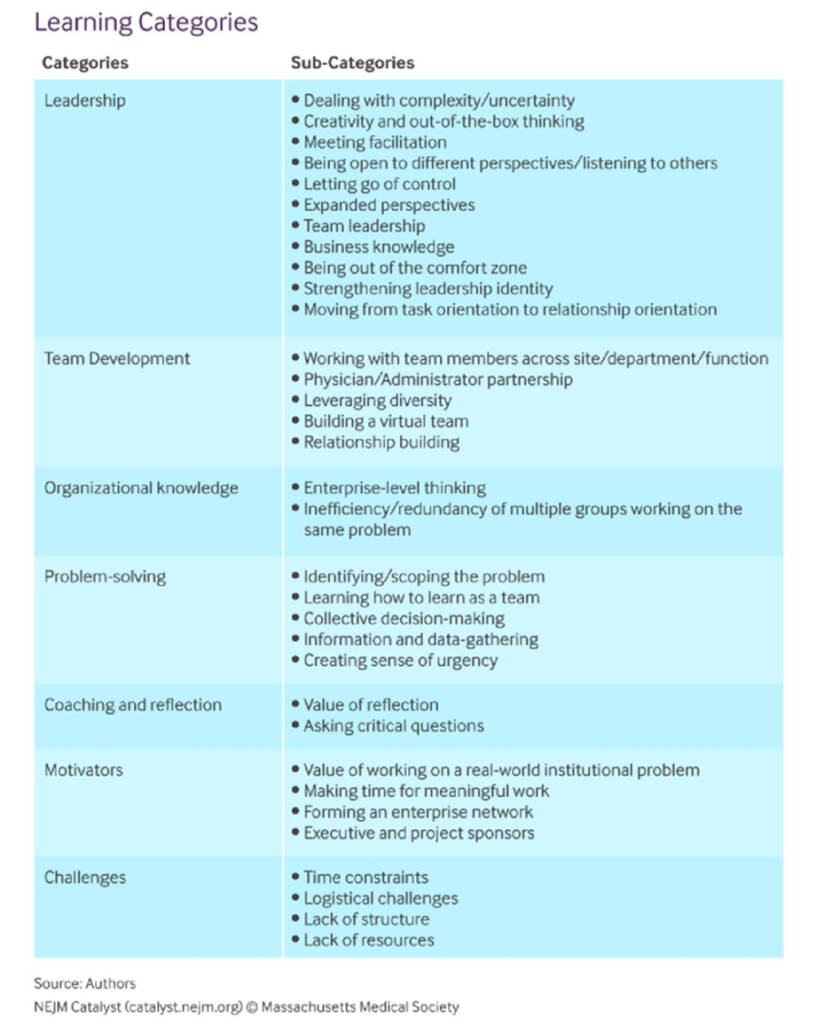 Kang, Ph.D., J. Y., Djonne, MEd, M. A., & Vaught, J. (2018, May). Action Learning-Based Leadership Development at an Academic Medical Center. Waltham, MA; New England Journal of Medicine Group.