Teambuilding has to be integrated into the existing team structure, culture, goals plus objectives of your company. People must see the connection between the team building activity and their work. Create-Learning Team Building & Leadership specializes in just that.
Hire Create-Learning to facilitate your team building and leadership
call 1.716.629.3678
We travel to you anywhere.
______________________________________________
Build a Tower Build A Team – Corporate Team Building Activity
What is it:
Participants work together to build the tallest free-standing tower with the given supplies.
What is the point
Explore assumptions that we bring to our work
Planning and small steps for teamwork
Reinforce the need for clear Goals, Roles, and Procedures within work teams
Teach the idea of iterative testing and design
Discuss the known and unknown assumptions that we carry as individuals and teams.
Create a process to test, explore and determine what is correct and incorrect about these assumptions to achieve successful outcomes.
What are we going to do
The group is separated into teams of 4
Each team of 4 is given the same resources
Teams then have 18 minutes to build the tallest freestanding structure
Will we talk about the lessons learned?
Yes. Following the activity, an interactive processing and lessons learned discussion occurs. The processing is where we discuss how the team worked together, clarify who did what, how the team dealt with setbacks and made the connection back to work.
The processing and lessons learned time is the most important aspect of the program and many participants discover 'AHA' moments.
Using small-scale experiments to connect the team building to their work processes and behaviors allows teams and people to talk openly about what is working well, what needs improvement and discuss how to accomplish the improvements.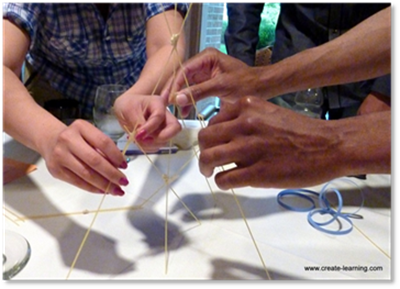 Possible lessons learned:
Prototyping Matters
As the work progresses iterative thinking and a way to create feedback that can be seen and acknowledged quickly ideally in the absence of management will allow for change and goals to be accomplished. Through small steps and quick Plan: Do: Check: Act PDCA cycles people on teams can adjust and adapt to challenges when they arise.
Diverse Skills Matter
Each individual in the challenge will have to be able to quickly share what they can do and have the team accept and utilize that strength. This challenge illustrates that the most successful teams are usually the ones that have someone who manages the process and has strong facilitation skills. Determining how to maximize and use the diverse skills will enable engagement of people and greater outcomes.
Immediate Feedback Matters
It is not enough to know what to do and know how to do it; a system has to be in place for immediate feedback. When a working system and task have direct feedback people can adjust what they are doing to achieve results faster. Quick short-term feedback is better than delayed long-term feedback.
Team Building & Team Development Programs;
Our programs result in;
Increased retention of staff talent
Increased satisfaction with work
Increased collaboration and information sharing within and between departments
Increased accountability for success and failure
Increased knowledge transfer
Increased trust and speed of project completion and decision making as a team.
The programs develop both individuals and teams, connecting behaviors, actions, and processes and aligning them with your organizational goals, culture, mission, and values.
Your team will learn about, experience, reflect and practice being a high functioning team; they are empowered to create new habits, behaviors, practices and processes that can be used immediately. Together we create high functioning teams where all individuals are committed in word and action to the team: purpose, decision-making, expectations, resources and process.