I had a great time talking about team building, organization development, experiential education, and facilitation with Phil Brown of High 5 Adventure.
Questions Presented In This Episode
How did you get your start in Experiential Education?
Can you share tips on how how to develop new activities, new variations as a facilitator?
What does the term "Exaptative" mean?
How do you differentiate/develop your own authentic facilitation style?
Is there value in repeating activities with groups?
Can you share some strategies and experiential education tools you employ with corporate customers?
---
From Team Building to Organization Development
When I began as a team-building and rope course instructor, High 5 Adventure was where I looked for inspiration and guidance. This discussion with Phil was a bit of nostalgia and a feeling of admiration. As Phil and I spoke, a deep sense of being a piece in a strong interwoven fabric of peers and practitioners made this work possible.
Now, as an organization development consultant who significantly improves the performance of teams and the retention of talent to keep your organization and you innovative – experiential learning and activities are integral to our progress.
In the podcast, I mention Sam Sikes and his book Raptor. When I got serious about corporate team building, I worked at Beaver Hollow Conference Center outside Buffalo, NY. The conference center had the standard low and high ropes challenges and a climbing wall. Most of the team development focused on outside team building. For many reasons being outside or overly physical limited what we could do and the impact on the teams. Buffalo, NY has a long winter season 🙂 and not every adult can or wants to work through the physical needs of a ropes course. Plus, the world of work and the teams they are on are were mainly knowledge work — and connecting the ropes course to everyone involved and adding to the team as an active member also has its limitations. When I first got Sam's book, it was like finding the answer I had been looking for. Not just the activities, also Sam's focus was on corporate teams.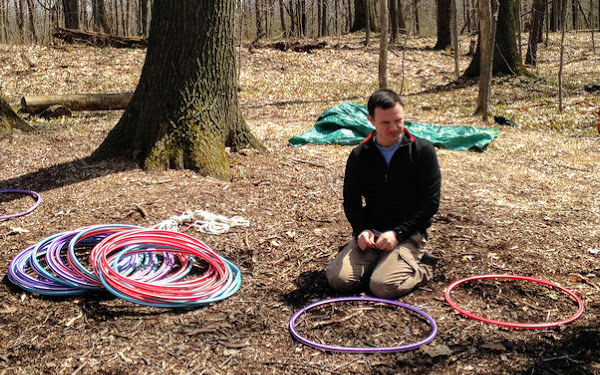 The ability to better see and find language around how to frame what you and your team need, then develop experiential ways that are similar yet different enough to feel different is how we create exceptions and bright spots in teams.
I've written about this before, and corporate team building works (sometimes) when we can make some evident challenges, and unspoken or not allowed to be spoken about challenges and successes come to light. Bringing these challenges and successes to light happens best through oblique or non-direct ways (like team building activities). Developing a parallel discussion (the activity) can make space for change and topics that need discussion while creating beneficial change within the team and how you interact. These discussions happen through questions, breaks, repeated patterns in different ways, noticing weak signals, and facilitation.
The podcast also mentions that you need to be OK with the barbs, challenges, jokes, and insults as a team-building person. All professions have an ironic, sarcastic side; we need to look at the absurdity of what we do and laugh along with people. I've made many mistakes of forcing a team-building activity when it was unnecessary or poorly explaining how what we are doing connects to the work and other foolish cringe-worthy things. And learning from the experience (experiential learning) is how we develop wisdom and make progress together.