Employee engagement attracts-trust when we change how work gets done leading to changes in how people work. Employee engagement repels-trust when we try to change peoples' psychology.
I was contracted to consult & coach a company to change employee engagement. I'm not a fan of using employee engagement assessments, this company insisted on using one. Instead of using assessments created outside the enterprise, we agreed to create the assessment based on the company and the present situation.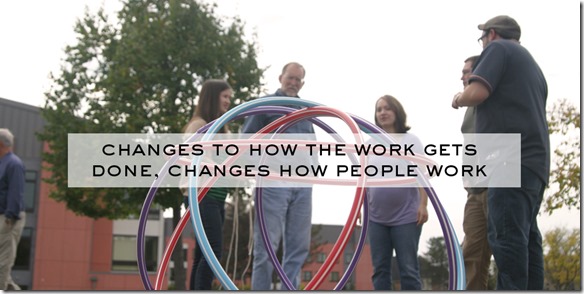 Situation
YellowBird is an innovative manufacturer of customized parts for several of the world's leading companies in the automotive industry. Success has created organizational growth. Frederick (CEO) and Alexandra (COO) recognize a need to develop innovative practices for employees.
YellowBird needs to be proactive and place an emphasis on identifying areas where people are engaged in their work and what causes engagement, plus areas of disengagement and what causes disengagement.
Building internal strengths will improve customer satisfaction. Allowing YellowBird to move to the next level of business development, increasing operations, growth, and services.
Areas of Focus
Develop a process to capture areas of engagement and disengagement.
Create a learning and development process to increase areas of engagement while decreasing areas of disengagement.
Create an internal management tool for Frederick and Alexandra to utilize along with Team Leaders and management. 
YellowBird to develop an internal process to increase employee engagement, without the assistance of a consultant.
Consulting Intervention
Part 1 – Understanding the Current Condition
YellowBird and Create-Learning developed an employee engagement assessment.
Based on the assessment and identified areas to amplify or muffle we developed a learning and development plan.
A cross-functional team was involved in team building consulting and coaching based on the areas of focus.
In each workshop, the team identified specific areas of work to be enhanced.
From these areas the team guided, tested and experimented various tools and processes to ensure that the work is completed while improving the team.
Between monthly workshops, the team(s) completed work tasks that focused on employee engagement.
In follow-up workshops, we discussed the work based task assignment and determined what worked that we can amplify and what did not work than we can muffle and change.
Part 2 – Organization Integration
Working with the all the staff, we create a shared language of 'what's working' and 'what's not working' plus improvement steps, and this was internally led with consulting from Mike Cardus.
The use of innovation and communication tools with the whole company created better ideas of how to complete the work.
Identified what content and team building tools are the most useful.
Development of internal Subject Matter Experts to facilitate the changes to how work gets done.
Gathered input from various staff members on what works best from their experience and how we can amplify what works while muffling what doesn't.
Stakeholder and vendor analysis plus involvement in amplifying what's working.
Employee Engagement Outcomes
From the use of an Employee Engagement assessment and feedback from the majority of staff, we changed specific work locations and the physical layout of the offices.
An increase in on time, on budget, on quality work from 63% to  67% in 10 months.
Team Leaders identified impact projects to improve the work.
Impact projects varied from customer satisfaction, quality improvement, innovation of new services.
Development of 2 new profit streams for the company using existing staff and resources.
Development of a YellowBird internal process to focus on improving employee engagement. This was included in Team Leaders performance appraisals.
Noticeably increased attendance at all-staff meeting and interaction between departments.

Mike is your partner for progress