With the end of the year approaching, this week is great to share some of my favorites of 2013.
Here is the schedule it may change;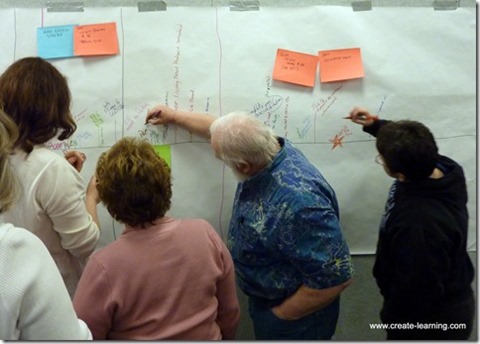 Favorite Team Building & Leadership Activities + Simulations 2013
Some of these were posted here. Some were shared the Create-Learning Letter a mostly-monthly newsletter that has Organization Development, Team Building, Managerial-Leadership, Experiential Theory  application + articles + ideas.
DiSC Team Building Activity; Used to flex their S – Steadiness Preference.
For participants to experience an S – Steadiness type culture. In this activity all people are asked to use their Steadiness behavior to be supportive of the team and get satisfaction from helping others be successful.
Working with a corporate team to identify new product and service ideas, we quickly found the team falling victim to group-think. Following a short break the people returned to find stacks of index cards at their table and the MindSpin guidelines on a Flip Chart.
Partner Connection – Variation of Infinite Loops TeamBuilding Activity. Outcomes & Objectives: Creating connections; Learning from experience; Solutions thinking
Great team building activities have the lessons built into them, and when properly framed the team just sees and gets the connection, without much prompting.
Competitive demands require quicker, more effective and innovative problem solving. Problem solvers are required to quickly provide solutions to increasingly complex problems, develop and design new and innovative products and processes – all while reducing research and development time and costs.
5 Steps to ensure that team-work gets accomplished and everyone knows what to-do.
Team-Building has to be integrated into the existing team structure, culture and goals + objectives of your company. People must see the connection between the team building activity and their work.
Before, During, After a team building activity and workshop the questions asked transfer the lessons learned and can guide the people to find connections to their work and lives. The questions don't need to be fancy.
Making team building stick is what people on the team want to see happen and you can make it happen with some discussion, planning and follow-up.
The Current Method / Better Way Matrix is a team tool that can stretch peoples minds and assumptions to Enable Innovation and create a comfort level that allows for breakthrough ideas to happen.
The areas of the work you find relevant, you will ascribe value to, and be motivated to do more of that stuff. The areas of the work you find to be irrelevant you may still do. And will eventually try to stop doing because they are of little value to you – causing unmotivation.
The guidelines align with team building & executive coaching activities. Illustrating through activities a team and person develop exceptions and see 'what works' in a context they're not used too and is still familiar because they just made it happen.
I like using activities for Team Building and Leadership Development.
Sometimes wondering if they are the best tool to use at the time and what else could be used to get the message and development across?
What an amazing year! Looking forward to meeting and working with you in 2014.