In  4 Strategic Planning Co-creation Steps & Benefits by Alan Kay, he responded to a common objection to using co-creation (working with a team) to develop plans.
Yes, but what if the people engaged in strategic planning are wrong about what needs to be done?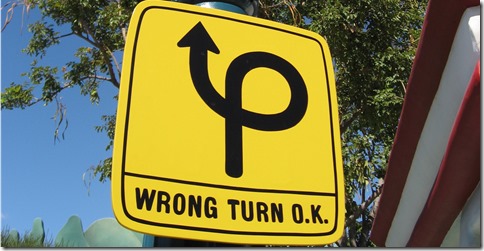 Alan's Response
They may be wrong, but no more so than the planning experts. If they own it, they will make it work, flaws and all. If they do not own it, they will take more time to engage.
You want people to create the company's future, and they may not know where to take the company. 
What if they are wrong? Many managers are afraid of this, or they fear that the people will go in the wrong direction or that focus will not be on what is needed.

While working with a CEO of a large non-profit, this was the exact question and challenge we faced.
With the future being uncertain, cuts to reimbursement for services, changes in regulations from the state, and a staff of people who, he claimed: "Want to keep the company as it was ten years ago" … How can we have them be part of the plan AND guide them in a new direction AND still have their buy-in and dedication to make the plan happen?
It is amazing what people develop when they have the necessary information.
Share company struggles, successes, and finances
Treat people like adults. They probably know or have created rumors about the company already…share current and future possible challenges.
Share the past, present, and future projected financial information. Please share the finances in a manner that is easy to understand. Showing profit, loss, expenses, and revenue will help to frame the future.
Take time and share successes. Highlight what is going well and share names and facts of what and how it went well.
Develop broad buckets that the co-created plan will fit in
As the Senior Leadership defining the broad thematic goals is your job. Before the planning meeting, have some idea of the longer-term areas and impacts that are to be achieved.
It may be 'Expand Territory of Services/Products' or 'Evaluate Internal Job Accountabilities' or 'Identify 4 New Profit Steams' …
These broad buckets should be part of the Board and Senior Leadership Strategic Plan. The majority of people will be OK with management defining these, which is management + the board's job.
Have a process that elicits multiple discussions and iterations of ideas
This will take time. Everyone should have a chance to talk, challenge, and work through the co-creation of this plan.
You need to have a shared Goal for this and a known + fitting procedure for deciding and accomplishing the goal. It may be best to bring in someone from outside the team, like a consultant & facilitator.
Everyone should feel that his or her ideas are heard and a part of the plan.
Share and define the next steps.
Before, During, and after the planning process, tell everyone repeatedly how the plan will be created and shared.
Treat people like adults… make them aware, and be honest about every planning process step.
For example, with a project planning team. We shared that we need everyone's input, and that does not mean that all their planning ideas will be or can be implemented. The project team appreciated and was able to do great work knowing that.
People become frustrated when you are not honest up-front…
OK, but still, what if they are wrong?
Break the plan into short action steps. I recommend 90-day tasks that are framed within the larger goal.
Develop a process to evaluate success and regress. During the 90-day task steps, continually evaluate: is this right? How do we know? What is working? What challenges are we seeing?
When you find that something is wrong or not working, STOP DOING IT. It is your co-created plan. You can change it if you need to.
When you find that something is right and working, KEEP DOING IT. Detail what is working and how it is working and keep a focus on doing more of that.
Continue to share updates and evaluations with everyone involved. Following the 90 day tasks (aligned with the plan), have all-hands update meetings.
Continue to be honest and treat people like adults. No one expects you to be an all-knowing oracle of the company. When things go wrong, admit it and talk about it… when things go right, admit it and talk about it.
I think this video sums up some great ideas for change and uncertainty.
As Alan said – They may be wrong, but no more so than the planning experts. If they own it, they will make it work, flaws and all. If they do not own it, they will take more time to engage.