In 'Resistance to Change. Fear of Temporary Incompetence' … I shared some ideas on how to work with resistance to change:
Fear of temporary incompetence
During the transition process, you do not feel competent because you have given up the old way and have not yet mastered the new one. Edgar Schein
Working with change people and companies need to recognize a disconfirmation of their current way of doing things. This disconfirmation can be enough to trigger a need to change. However, if learning the new skills and ways that this change entails is more anxiety producing than the need to change…change will not occur.
In order for the change to happen the anxiety of learning the new skills and behaviors that the change requires must be lessened. Making the new learning and skills feel natural and safe as possible.
How to work with this?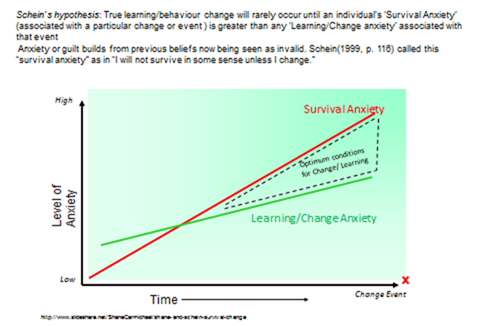 Instead of making them more anxious. Make the learning easier
Listening to their viewpoints and respecting what they wanted + making Failure and Learning part of the objectives… Everyone felt comfortable taking on this person-based-task-assignment.