As you work to plan and understand your future, how do you make sense of what is currently happening and what a better tomorrow looks like?
SWOT (strengths, weaknesses, opportunities, threats) is an often-used strategic planning process. SWOT is used alone, with a team or multiple teams, to determine the current environment and gather various perspectives. 
The problem with SWOT is that it can lead people to feel that all issues are overwhelming. Some problems are not linear or easy to understand the root cause or have multiple causes. Plus, leadership can become defensive if many weaknesses and threats are aware of and may have caused or can do little about them. 
Several years ago, with a client who hired me to support their strategic priorities and understand the complexity of their work, we created NOISE analysis.
NOISE analysis is a solution-focused way to look at your project, company, or leadership and gather multiple perspectives. From these perspectives, understand what is working well to amplify and what is not working to dampen.
NOISE stands for:
Needs
Opportunities
Improvements
Strengths
Exceptions
NOISE uncovers or makes clearer the bright-spots that you may not notice
NOISE analysis can show you the following: 
Current into future resources,
what better will look like, and how will we/others recognize this better, 
how are others or the outliers in our field finding and understanding opportunities, 
what parts of the needs, opportunities, improvements, strengths are we already doing that we would like to increase or decrease? 
Here is an image of the NOISE analysis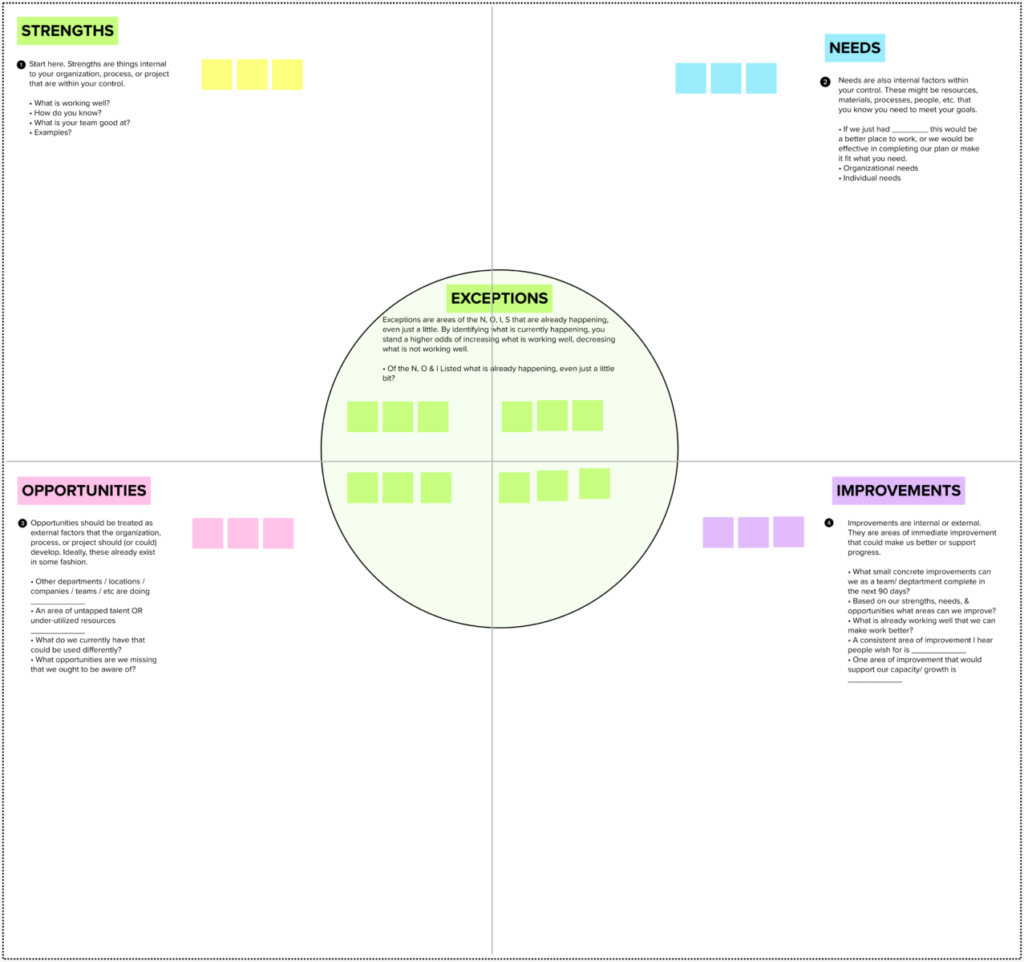 Here is a completed NOISE analysis that I facilitated with a company
Following your team developing and discussing the NOISE analysis, we work through the following questions to better understand strategic planning or strategic priorities:
How do you use your strengths to take advantage of opportunities?
How do you close the gap in needs preventing you from taking advantage of opportunities?
How can you better understand the opportunities and increase their odds of happening?
What improvements can be put into practice quickly? Which will need some expert support and advice? Which will yield good results and play to our strengths?
Using the NOISE analysis will give you support to understand the complexity and order of your work. You can better determine what areas can be short, mid, and long-term strategic priorities from the understanding. Plus, having your team work through the NOISE analysis will create greater buy-in to the work and changes.