To better manage and understand yourself and work, you need to seek different patterns.
2021 will be a year of complexity, change, and pattern recognition.
How you and your team discuss and identify patterns in a rapidly changing and somewhat unpredictable environment will work to increase or decrease teamwork and stress.
In the video above, I share:
One simple and easy process to review and reflect on your and your team's work.
Ideas for how to make sense of the patterns you notice,
a way to create small changes or experiments and see what happens to do more of and less of
I've shared how much I like and use Distinctive :: Working Well :: Small Improvements in other places.
Working with an agile-team, we replaced their after-action review process with Distinctive :: Working Well :: Small Improvements. While watching the teamwork through the columns struck me how simple the language is and how the team disagreed and listened. At the same time, they kept areas of disagreement in the columns. 
---
How to use Distinctive, Working Well, Small Improvements (DWWSI)
Working with a management team from a health care organization, we used this process early in the covid19 pandemic to understand and look for patterns in the rapid changes.
The CEO shared with me that she knew good change was happening and was afraid that the managers missed the changes because all the managers are so focused on right now and the pandemic's immediacy.
For 2 weeks, I asked each manager to record daily:
What has been distinctive or unique about their day, work, and interactions?
What about your day shows that things are working well?
What small improvements can be made to improve our work?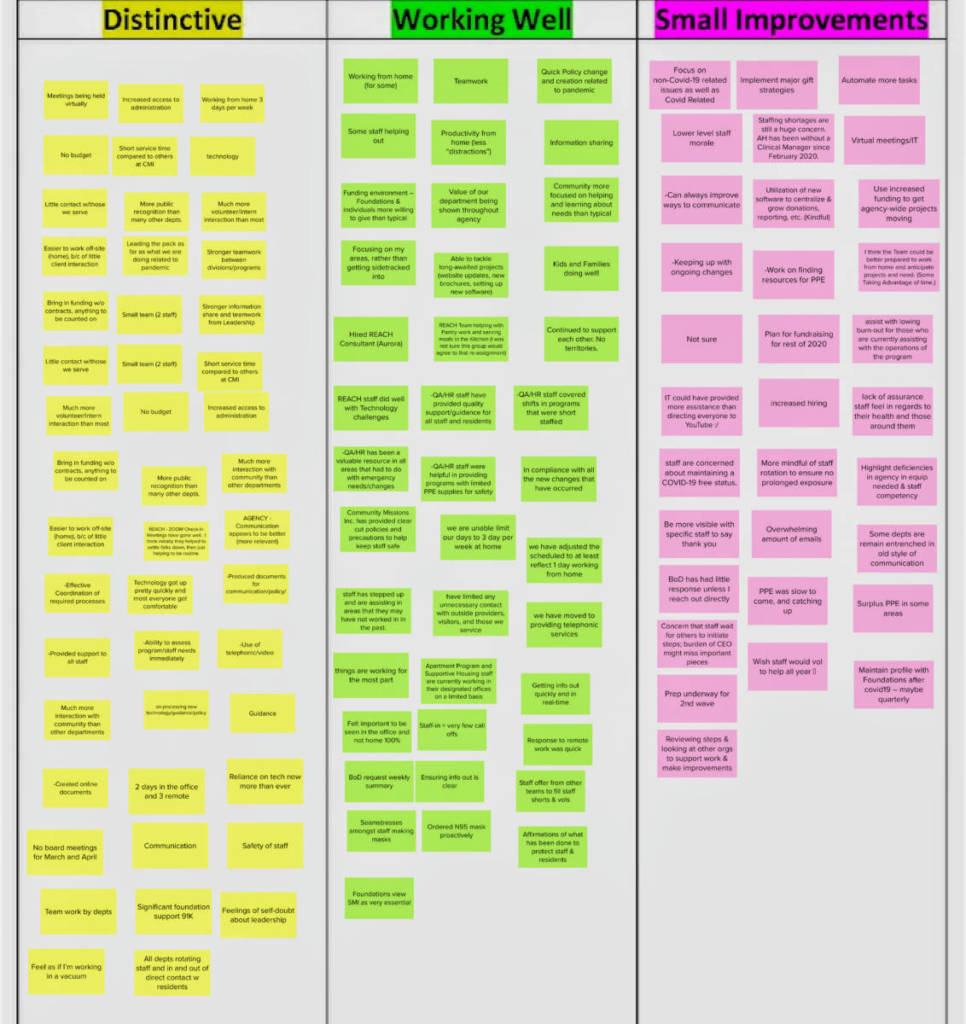 I gathered all the responses and shared them with the management team. We discussed each item and then worked on creating clusters of affinity groups based on their day and organization constraints.
Because the team was familiar with the cynefin framework (we've been using cynefin and sense-maker to understand and act on employee experience data), we categorized the areas for improvement in the cynefin domains.
Clear = can be done immediately with current people, little to no money or resources needed.
Complicated = we need expert support or subject-matter-experts who are not on this team, and we can allocate some money and resources to make it happen.
Complex = the task and improvement are important and are not as clear or understandable about what to do; we will need to allow more time and develop multiple safe-to-fail experiments to learn better and understand.
Chaos = all hell breaks loose, and we might be unprepared
Confused = not sure about what to do, the idea is interesting, and we want to talk about it more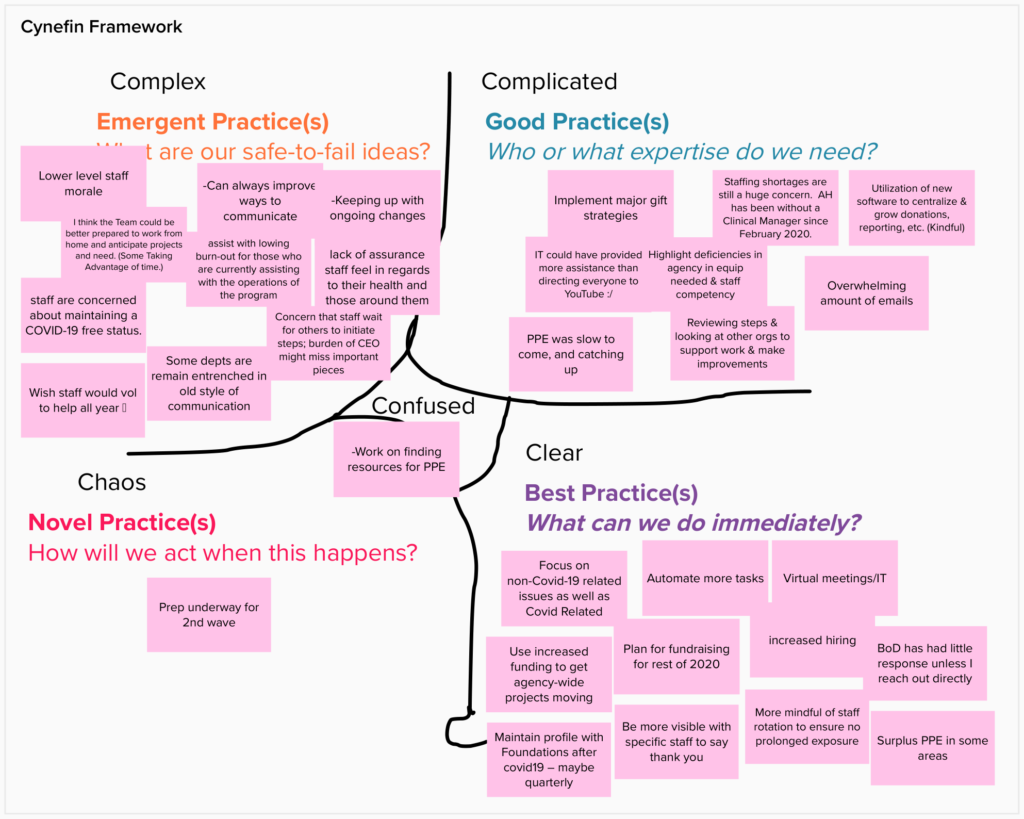 Patterns and having a method to look for, understand, document, and share are how sense-making and navigating complexity happens. When you can share data in people's own words and understanding, let those same people make sense of the collective pattern and impact. You will make a difference that matters – this is how change happens.